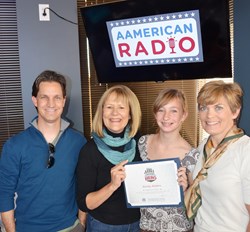 Brinley's passion and actions are creating meaningful change.
(PRWEB) December 02, 2013
Bullying amongst school age kids seems to be rampant. One Phoenix 13 year old, who has been on the receiving end of bullying, knows how mean words and actions can cut to the core and seriously damage self-esteem. To counter that, Brinley Walters chose to stare bullying in the face…with a smile. She is celebrating the good things she sees in people. Her actions earned her the Neighborhood HERO award from AAM, Phoenix's top community management firm, and the opportunity to be on the company's internet radio show that celebrates people making a positive difference.
This remarkable young woman has launched "Project Encouragement." She covertly and anonymously places a list of positive attributes she associates with various students into their backpacks or on their desks. Her hope is that the letters would brighten their day and let them know that they are valuable, important, and worthy of smiling and laughing. "More people need to smile and laugh each and every day," noted this savvy teenager.
Embracing the positives can be powerful and persuasive. One boy in her class gave Brinley, a Norterra Canyon School 8th grader, a hard time about the letters, until he received one. "Once he got his own letter, listing his attributes, he changed his tune and was glowing like a Christmas tree! When the students receive these letters, they get really happy, it changes their mood and attitude and they give that positive feeling right back," she noted.
"We believe Brinley is a true hero in every sense of the word. Her passion and actions are creating meaningful change," said Amanda Shaw, AAM president. "We are thrilled to honor her with our Neighborhood Hero Award."
Brinley is a feature interview on AAM's new internet radio show called AAMERICAN RADIO at http://www.DoubleWideNetwork.com. The radio show focuses on creating a better America one neighborhood at a time, showcasing the people who are making a difference. AAMERICAN RADIO streams live on Thursdays at 9 a.m. Phoenix time, and the show's growing archives of empowering stories are available for listening at anytime at the online radio network.
About AAM
AAM works with many of the largest homebuilding and community development companies in the United States such as Del Webb/Pulte, Shea Homes and Meritage Homes. Founded in 1990, AAM employs 370 people and manages more than 440 homeowners associations in the United States. The company embraces a value system of creating a better America one neighborhood at a time, thru engaged neighborhoods and vibrant communities. AAM was ranked the #1 HOA/Community Management firm in Phoenix in 2013 by the Phoenix Business Journal. The company has offices in Phoenix and Tucson, Arizona; Albuquerque, New Mexico; and Orlando, Florida. http://www.associatedasset.com