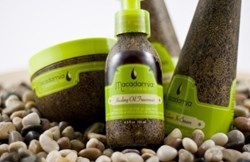 I could see results instantly: Smooth, Silky, Shiny hair. Amazing!
(PRWEB) November 24, 2013
TheBeautyPlace.com, an online discounted beauty store announces it's offering customers Macadamia Natural Oil samples till the end of 2013. Macadamia Natural Oil is a luxury brand of haircare products for the professional beauty industry. Macadamia Natural Oil binds the unique properties of Macadamia Nut Oil and the rare Argan Seed Oil to produce the ultimate pampering. Macadamia Natural Oil has created haircare products that heal, nourish, revitalize, and rejuvenate even the most problem hair.
For thousands of years, the Macadamia nut has been renowned for its high nutritional value and heath promoting benefits. Today, Macadamia Oil is widely enjoyed for its incredible benefits for hair, skin, and overall health by promoting shiny hair and radiant skin. Together, Macadamia Oil and Argan Oil replenish the hair's natural emollients with a high content of essential fatty acids found naturally in both of these exceptional oils. The combined benefits help to protect the hair from harmful UV rays while repairing hair follicles for improved elasticity and shine. Macadamia Natural Oil haircare products provide intense nourishment, smoothing and a long lasting, tangle-free, frizz-free finish.
The top sellers for TheBeautyPlace.com are the Macadamia Healing Oil Treatment and the Macadamia Deep Repair Masque. The healing oil is a therapeutic hair oil treatment perfect for all hair types and is especially beneficial to dry, damaged hair. The Deep Repair Masque is a hair reconstructor that penetrates and rebuilds damaged hair for improved shine and elasticity.
From now until the end of 2013, TheBeautyPlace.com is allowing customers to experience the benefits of Macadamia Natural Oil products, by entering coupon code MACSAMPLE at checkout to receive a full set of samples that include the Macadamia Rejuvenating Shampoo, Moisturizing Rinse, Nourishing Leave-In Cream, Reviving Curl Cream, and the Healing Oil Treatment. Hurry to TheBeautyPlace.com for top brands of beauty products at discounted prices and to receive your Macadamia Natural Oil samples today!