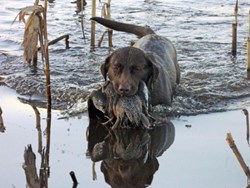 Being here is more like visiting a friend's home than being at a resort.
White Sulphur Springs, WV (PRWEB) November 26, 2013
The Greenbrier, the historic American resort in the foothills of West Virginia's Allegheny Mountains, has announced an exclusive new partnership with the Upper Brandon Plantation, offering resort guests and club members access to world-class waterfowl hunting excursions on the historic James River plantation. Jim Justice, owner of The Greenbrier, recently purchased the Upper Brandon Plantation, along with the Flowerdew Hundred, allowing guests of The Greenbrier resort and members of The Greenbrier Sporting Club access to duck and goose hunting, respectively, at these two historic 17th-century properties on the James River, east of Richmond, VA.
Waterfowl hunting season at the 2,200-acre Upper Brandon Plantation and the 1,300-acre Flowerdew Hundred runs from November 16-30, 2013 and December 18, 2013-January 25, 2014. Guests and members of The Greenbrier and Greenbrier Sporting Club, as well as members at The Resort at Glade Springs and Wintergreen, can book an exclusive new two-day hunt, which includes a Duck Hunt at Upper Brandon Plantation (day one) and a Goose Hunt at Flowerdew Hundred (day two), inclusive of a Virginia hunting license, guns and ammunition, waders and guided hunts with dogs. The two-day hunting excursion, priced at $2,500 per guest, also includes overnight accommodation at the Upper Brandon Plantation, all meals and beverages and a tour of the historic Manor House at Upper Brandon. All birds will be processed for guests and packed for travel. Transportation to and from Upper Brandon Plantation can be arranged, at an additional fee.
For more information about hunting with The Greenbrier at Upper Brandon Plantation, please visit: http://www.greenbrier.com/upperbrandon.
ABOUT THE GREENBRIER:
Located in White Sulphur Springs in the Allegheny Mountains of West Virginia, The Greenbrier has been welcoming guests since 1778. Known as "America's Resort," it encompasses more than 10,000 acres of undulating landscape that includes: four golf courses (including the exclusive Greenbrier Sporting Club's private course); a championship indoor and outdoor tennis facility (including five outdoor clay courts and five indoor courts); The Greenbrier Clinic (specializing in executive health); a 40,000-square-foot spa; a mélange of sporting activities; shops; private homes at The Greenbrier Sporting Club; guests-only casino; and, at its heart, a vast and imposing grand hotel. Purchased in 2009 by West Virginia entrepreneur James C. Justice II, The Greenbrier has undergone a $250+ million restoration and is now home to The Greenbrier Classic, a PGA TOUR, FedEx Cup event, and will soon launch The Greenbrier Medical Institute, a state-of-the-art medical complex on the resort's grounds.
MEDIA CONTACTS:
Stacy Eskins for The Greenbrier Sporting Club
E-mail: seskins (at) gbrsc (dot) com
Tel: 888-741-8989
http://www.greenbriersportingclub.com