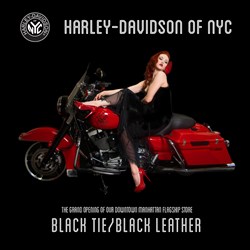 Harley-Davidson of NYC opens flagship showroom in Manhattan featuring new digital technology
(PRWEB) November 25, 2013
The unique two-level space was designed exclusively for Harley-Davidson of NYC to allow customers access and control of the latest in digital design technology. The showroom also features a coffee bar, 16 monitor display wall, dynamic Glass Bike Lift suspended from the ceiling and a premium selection of exclusive accessories and apparel sure to appeal to Harley enthusiasts the world over.
Featuring the world's first and only Harley-Davidson Powerwall; two multi-touch kiosks allow customers to design, view and save their custom bikes on a movie screen sized display, instantly.
"One of the best features of the Power Wall is that the multi-touch kiosks allows our customers to build their custom Harley-Davidson with their hands." says Avi Jacobi owner of Harley-Davidson NYC.
"Because they can save their designs, the possibilities are truly endless. After choosing favorites they can go downstairs to the showroom itself and see all the elements of their custom bike in person."
In addition to having all Harley-Davidson model families on display and available for purchase, the Harley-Davidson of NYC showroom has its own line of custom bikes utilizing the Harley-Davidson of NYC logo. The Harley-Davidson of NYC logo pays homage to the Subway tokens of a bygone era, and the spirit of New York City itself: glamorous, tough, and urban. The logo is displayed throughout the showroom, which is done up in traditional H-D orange and black, and is available on apparel as well.
A PASSION FOR SERVICE
"When a customer purchases a bike it appears totally suspended on a glass platform, seemingly from thin air, ready to go," Jacobi continues, "that's fun."
Harley-Davidson of NYC is on a mission to create the ultimate consumer journey using new designs and features for a futuristic and inviting experience.
Concierge service is available on premises, conveniently connecting your bike to our Service Department. Riders have the option of dropping off their bike, or taking advantage of scheduled pick-up.
Harley-Davidson is synonymous with the greatest motorcycles ever made.
"It's a thrill for us to be part of such a brand, and an honor to be able to represent it with this new digital technology and our New York City style." says Jacobi. "I cannot wait for the launch".
KEY FEATURES OF HARLEY DAVIDSON NYC STORE OPENING
POWER WALL
First ever giant display, two multi touch kiosks allow customers to build their custom bikes with their hands. Design combinations are nearly unlimited and are able to be stored.
GLASS CEILING SUSPENDED BIKE PLATFORM
Bringing Vegas style illusion to a retail setting.
A unique design innovation exclusive to Harley-Davidson of NYC.
UNVEILING OF MULTIPLE NEW CUSTOM BIKES
The world premier of multiple new Harley-Davidson of NYC custom 2014 motorcycles for, seen for the first time ever
IN-STORE COFFEE BAR AND BOUTIQUE
ABOUT HARLEY-DAVIDSON
Founded in Milwaukee, Wisconsin in 1903 by William A. Harley and the Davidson brothers; Arthur, Walter and William A. Harley-Davidson is the world's leading motorcycle company and lifestyle brand. Historically innovative, Harley-Davidson exemplifies American enterprise invention, and adventure.
Media inquiries:
Chloe Valentine
Cv@artistsbychloe.com