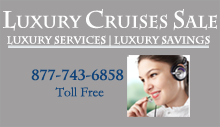 (PRWEB) November 25, 2013
Luxury Cruises Sale, the online Cruise Sale division of Bon Voyage Travel, is a preferred partner of the top luxury cruise lines, including Silversea, Azamara, Oceania, Regent Seven Seas and Crystal Cruises. As a special thank you to their customers, and in an effort to differentiate themselves this holiday season they are promoting five different offers available before Thanksgiving. LuxuryCruisesSale.com has long-standing relationships with luxury cruise lines which allow the site to offer extra amenities and deals to consumers, including savings of up to two-thousand five-hundred dollars.
Through the end of November LuxuryCruisesSale.com is offering a two-hundred dollar shipboard credit on any Crystal Cruises sailing. Clients can call now through Tuesday, November 26, 2013 to take advantage of this Thanksgiving week offer. This extra two-hundred dollars can be used on shore excursions, spa treatments and more on board the ship. They are also offering up to three-hundred dollars in shipboard credit on any Silversea cruise, and up to five-hundred dollars in savings on Regent Seven Seas cruises during a two day event on Monday, November 25, 2013 and Tuesday, November 26, 2013. The final two day Thanksgiving promotion is two-hundred dollars shipboard credit on any Oceania sailing. This can be combined with all other offers, which can get clients up to nine-hundred and fifty dollars in shipboard credit, pre-paid gratuities and more.
Luxury Cruises Sale has also been able to create a unique savings opportunity with preferred partner Azamara Club Cruises for up to five-hundred dollars shipboard credit on select sailings. This shipboard credit is available through December 7, 2013, and begins on Monday, November 25, 2013. To learn more about pricing, availability and the details of these Thanksgiving cruise offers, please visit the Luxury Cruises Sale website.
About the Author:
Luxury Cruises Sale is one of the online Cruise Sale divisions of Bon Voyage Travel, a travel agency founded in 1976 in Tucson, Arizona. With over 35 years leading the travel industry, Luxury Cruises Sale offers additional amenities and superior service to those seeking the best cruise experience. Since Luxury Cruises Sale launched in September of 2010, Cruise Sale has expanded to operate eight dedicated online cruise sale websites, which successfully serve thousands planning their cruise vacation at the lowest price.