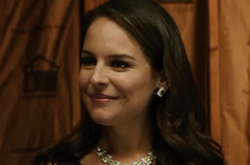 I finally got picked up! Especially since I've been here eight years, it's been a lot.
(PRWEB) November 23, 2013
For eight years, actress Yara Martinez has worked hard to find her place in the acting world. Well, now her dreams have come true on Amazon's new show 'Alpha House.'
Martinez recently spoke with TVRage.com's Senior Writer Anthony Marcusa about starring in the comedy alongside John Goodman, Mark Consuelos, Wanda Sykes and Amy Sedaris, who she also happens to have a "girl crush" on.
Here's an excerpt from the interview:
"TVRage: What can you tell us about your character? She initially seems opportunistic and empowered.
Martinez: She is really smart, but she also has good intentions. I don't think she is manipulative, for her she always has, or at least I see her this way, that she has always had power and comes from money. It's a sense of entitlement she doesn't see as entitlement, it's just how things are. Of course if I'm going to sit next to a really powerful senator, why wouldn't I protect my own interests, as opposed to scheming?
I think it's fun to play: she's powerful, she's rich, she's a hedonist, she enjoys life, she really just wants to have fun. It was really fun to play that and go that way.
TVRage: I read that you're a former political junkie, how did that interest play into the show?
Martinez: Honestly, not that much. Everyone else on this show is a political junkie – they take being a political junkie to another level (laughs). When people start talking about politics, I just shut up and listen, I can't keep up. I just look at Mark [Consuelos] and say, "I'm so stupid, I don't know anything."
I don't know all the senators and every single person, I know my representatives, and I try to be an informed citizen, but it was kind of hysterical to be at the cast dinner once everyone started talking politics. I was like, "umm, okay, alright, I'm just going to listen now." Which is great, you learn. It's great to be around people who are so well-rounded and know what they're talking about."
'Alpha House' is available for viewing at Amazon Prime.