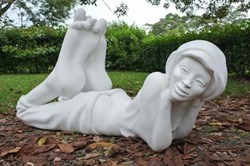 Art Basel Week, a must see location in the Miami Design District.
Miami, FL (PRWEB) November 24, 2013
As a pioneer of the Miami Design District's art scene, Bernard Markowicz has been hosting opening exhibit events every year during Art Basel Week at his gallery, Markowicz Fine Art. This year he is presenting "The Art Garden", a public installation of monumental sculptures by Israeli-French artist Idan Zareski from his "Big Foot Family" series, featuring three of Zareski's signature gigantic sculptures, at an empty lot that will be transformed into an art showcase for everyone to enjoy.
The original Bigfoot from the family series is a globe trotter; with its African roots and Latin American genealogy, Bigfoot is not a denunciation to racism, as it might first seem, on the contrary, it's a peaceful call for hope, for unity amongst the human race. His huge feet evoke the roots of our past, our anchor to this small fragile earth, reminding humanity that we are all from the same planet. Bigfoot carries his awareness message about cultural differences and origins in a peaceful way, throughout a journey that includes stops in Costa Rica, Colombia, USA, Monaco, Switzerland, Italy, and France.
Bigfoot was born out of the hands of Idan Zareski, a French National born in Haifa, Israel, who lived in several countries bearing witness to multiple races and cultures which are now fundamental components in his work. He never attended art school or any type of anatomy teachings, his gift came to him as a need, which in time he could no longer resist. Idan shapes his creations out of clay, water and fire, to later set them in resin or bronze. "I don't plan or organize, I don't draw sketches; my raw emotions serve as the only guide "when I work, I feel in absolute communion with a force greater than myself" says Zareski.
"The Art Garden" will also feature an art mural created by an internationally renowned street artist, whose identity will be revealed shortly. Conceptualized by David Landau Designs, the outdoor venue will be located at 85-92 Northeast 40th Street in the Miami Design District, and will feature ongoing video projections and music as part of the installation, each evening from December 4th to December 8th, and it will be open to the public through December 31st.
A private opening reception will be hosted on December 3rd from 6 p.m. to 9 p.m., featuring cocktails, hors d'oeuvres, live DJ, and it will be by invitation only.
About Markowicz Fine Art
Markowicz Fine Art is owned by French gallerist, Bernard Markowicz. The Markowicz Fine Art gallery is home to the Mourlot Estate in Florida. The Atelier Mourlot, located in Paris, is one of the largest printers of artistic posters in the world and widely visited by artists who create original graphic works of art there. The Markowicz Fine Art Gallery also features works by Pop Art legends such as Andy Warhol and Tom Wesselmann. For more information about the gallery, please visit http://www.markowiczfineart.com or call 786.362.5546.
# # #
Editor's Note:
To preview the set up of The Art Garden, to RSVP for the private opening, for high resolution images, and for more information about the artist and the event please contact Marcelo Rivero at mar(at)starservicesrocks(dot)com or at 305.450.1058.