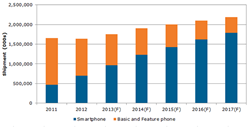 Smartphone market growth is being fueled by entry-level smartphones from international brands and white-box vendors in emerging markets.
Santa Clara, Calif. (PRWEB) November 25, 2013
Global smartphone shipments are forecast to reach 1.8 billion in 2017, accounting for 82 percent of total mobile phone handset shipments, up from 55 percent in the third quarter (Q3) of 2013. According to the latest NPD DisplaySearch Smartphone Quarterly report, the compound annual growth rate of (CAGR) for smartphones over the next five years will reach 21 percent, while feature phones will decline at a CAGR of 16 percent.
The majority of smartphone growth will come from the Asia-Pacific region, especially from China. China is forecast to grow 63 percent in 2013, and is expected to comprise 30 percent of the smartphone market by 2017.
"Smartphone market growth is being fueled by entry-level smartphones from international brands and white-box vendors in emerging markets," said Tina Teng, senior analyst for smartphones at NPD DisplaySearch. "We expect aggressive pricing moves to continue, prompting first-time smartphone buyers to upgrade earlier."
The most popular screen sizes through 2017 are expected to be 4-inch to 4.9-inch displays, although screens larger than five inches will account for more than one third (38 percent) of total smartphone shipments. While full-HD displays just became available last year, they are forecast to become the dominant resolution for smartphones, reaching 43 percent share of the market by 2017. Meanwhile, quad-HD displays will become available in 2014 and are expected to penetrate 16 percent of smartphone shipments in 2017.
As worldwide network speeds increase, 4G smartphones will continue to penetrate more of the market, reaching 41 percent of smartphone shipments in 2017; however, due to its economy of scale, 3G high-speed packet access (HSPA) will continue to be the dominant air-interface technology, comprising 51 percent of the market in 2017.
The NPD DisplaySearch Smartphone Quarterly report analyzes the smartphone market by region, brand, air interface, technology and mobile operation system on a quarterly and annual basis. It also provides analyses of the market and technology trends of smartphone key components, touch panels, cover glass, and applications processors (AP). For more information, contact Charles Camaroto at 1.888.436.7673 or 1.516.625.2452, e-mail contact(at)displaysearch(dot)com, or contact your regional NPD DisplaySearch office in China, Japan, Korea or Taiwan for more information.
About NPD DisplaySearch
NPD DisplaySearch, part of The NPD Group, provides global market research and consulting specializing in the display supply chain, including trend information, forecasts and analyses developed by a global team of experienced analysts with extensive industry knowledge. NPD DisplaySearch supply chain expertise complements sell-through information from The NPD Group, thereby providing a true end-to-end view of the display supply chain from materials and components to shipments of electronic devices with displays to sales of major consumer and commercial channels. For more information, visit us at http://www.displaysearch.com. Read our blog at http://www.displaysearchblog.com and follow us on Twitter at @DisplaySearch.
About The NPD Group, Inc.
The NPD Group provides global information and advisory services to drive better business decisions. By combining unique data assets with unmatched industry expertise, we help our clients track their markets, understand consumers, and drive profitable growth. Sectors covered include automotive, beauty, consumer electronics, entertainment, fashion, food/foodservice, home, luxury, mobile, office supplies, sports, technology, toys, and video games. For more information, visit http://www.npd.com and npdgroupblog.com. Follow us on Twitter: @npdgroup.