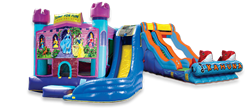 New York, NY (PRWEB) November 25, 2013
JumpForFun, the national seller of bouncy castles, and inflatable bouncy houses/ slides, is pleased to announce its expansion into Miami.
Call 1-800-281-6792 for the latest pricing today, and to learn more about jumpers in Miami.
About Jump For Fun
JumpForFun is the largest online service provider of jumpers and bouncy castles. Consumers in Miami, interested in finding Jumpers for their party, are encouraged to visit JumpForFun's new web page. JumpForFun offers anything from small jumpers and bouncy castles, to large and exorbitant 5 in 1 Oasis Combo's. JumpForFun's new expansion, and new web page, is updated daily with the best and most accurate pricing. Customers interested in renting a jumper can expect anywhere from 5-15 percent off normal rates. With dozens of locations all over the country, picking JumpForFun as the go-to party rental company makes sense.
Whether you call them jumpers, bounce houses or moonwalks, well make your next party rental fast and easy.
About Jump For Fun
Jump For Fun makes booking and shopping for your next event an easy and simple process. We offer all sorts of party rental products, in most major states.