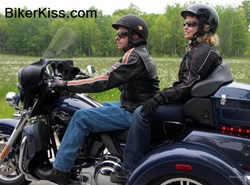 Los Angeles California (PRWEB) November 29, 2013
BikerKiss.com is currently looking for writers among its members who can write great articles for its site. The popular dating site for motorcycle enthusiasts is offering members $100 to $1,000 as a reward for each article that is qualified and approved. The higher payment amounts will go to those writers who can publish their approved articles on some major websites or popular blogs.
The topics for the BikerKiss articles should focus on subjects that most bikers would find interesting, such as biker lifestyle, relationships, sex, dating, marriage and other topics that would appeal to the demographic of people who enjoy the biker lifestyle. The "Earn Cash by Posting a Press Release" activity has already begun. The site intends for this to be a long-term activity among all the members on the site.
Participants need not be professional writers. Anyone who can write reasonably well should give it a try. This is a great chance for the motorcycle loving members of BikerKiss.com to express what they love about being a biker and how it effects all parts of their lives. All the members have a chance to tell their story, whether it's a love story or a sad story. If they want to include their experience with the BikerKiss.com dating website, then all the better.
First-hand stories about the site will give non-members some insight into the type of people who frequently use the site in addition to the typical type of experience using the site might be for readers also. The articles might entice someone new to decide to give it a try. This is a fantastic win-win opportunity for all the members of the popular biker dating site.
About BikerKiss.com
BikerKiss.com is the largest and most effective dating site for single bikers to find their match or friends. Members on the site come from all over the world because of the same interest. If you are looking for others to ride on Ducati, Harley, Triumph or BMW, BikerKiss is the right place.