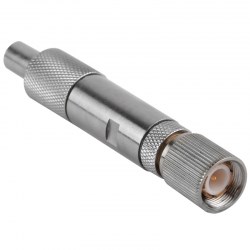 (PRWEB) November 26, 2013
RFcnn.com is one of the world's leading balun suppliers. Its balun products include G703 Mini baluns, E1 mini baluns, E2 mini baluns, 1.6/5.6 mini baluns, BNC mini baluns, and many others. Recently, the company has introduced its latest collection of G703 Mini baluns and launched a collection of these new items.
According to the CEO of the company, the promotion is launched for the international clients. "Our G703 Mini baluns are made from the best materials in the world. They are easy to use. To meet the different needs and requirements of customers throughout the world, the new products are provided in various specifications. As one of the industry leaders, we pay much attention to customer satisfaction. We promise to offer excellent service at our online shop," he says happily.
Because of its team of expert engineers, the company is able to offer what customers actually need. It has already installed high end machinery and equipment. In addition, the company deploys strict quality regulations. Each product offered by RFcnn.com meets the international standards.
For additional information, the company often launches promotional offers on its high end products. Its purpose is to increase market share and facilitate worldwide customers. It is extremely famous for its useful and durable devices.
About RFcnn.com
RFcnn.com is an online shop of Zhenjiang Fourstar Electronics Co. LTD, which is a China based company that aims to provide customers with high quality products at the lowest possible prices. Customers can try the company's products through sample orders with a long-term contract. Most customers come back soon after receiving their first deals.
More details about the company's high quality connectors can be found at http://www.rfcnn.com/Mini-Balun-1-6-5-6-L9-male-straight-to-IDC-AWG24-26-RF-Connector-90.html.