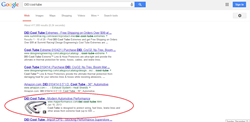 Video can increase conversions by as much as 85%.
New York, NY (PRWEB) December 20, 2013
People are moving increasingly away from the hectic crowds of shopping in stores to a more convenient online experience. In 2012, online shoppers spent a record $43 billion during the holiday season. Online sales this year are projected to rise to $62 billion,* taking an ever increasing share of retail sales. More and more, buying Christmas gifts begins with a Google search, so visibility in search engine results is of the utmost importance. In time for the busiest online shopping period of the year, Treepodia has released the latest version of its Dynamic Video Sitemap (DVS) system, which guarantees Google video indexing.
Who Will Come Out on Top?
Videos are a compelling and modern medium that are guaranteed to take holiday season sales to the next level. Video can increase conversions by as much as 85%, which means that most retailers see a ten-fold return on investment over the cost of production. With Treepodia's Dynamic Video Sitemap tool, product videos are automatically indexed on all major search engines, allowing them to appear at the top of search results. In as little as a few days of submitting the Dynamic Video Sitemap, an ecommerce can have their entire product catalog indexed by Google Video. This has an immediate impact on a site's SEO. In fact, with the DVS videos are 53 times more likely to appear on the first page of a Google search result.
For example, after submitting the Dynamic Video Sitemap, a search for a popular term such as "DEI Cool Tube" not only brings Modern Automotive Performance to Google's top search results, it also displays a video result with a distinctive and eye-catching thumbnail – all on the first page.
A Cost-effective, Scalable and Powerful Solution
With hundreds of clients globally – including Office Depot, NFL Shop, Walmart and Lenovo – and more than 10 million high-converting videos with millions of views, Treepodia is the leading and most powerful ecommerce video platform for online retailers. By synchronizing an existing product catalog with its cut-and-paste integration system, Treepodia offers businesses a fast and inexpensive solution. Offering tailor-made solutions for both small and big businesses, Treepodia guarantees a 4 times Return on Investment.