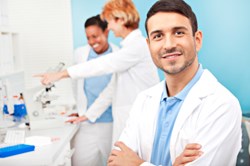 (PRWEB) December 04, 2013
While local resources might be helpful for environmental analysis of items such as water samples, specialized analysis requires a laboratory skilled in those services. This is why corporate, individual, and government clients across the nation seek formulation help from Avomeen Analytical Services, the experts in deformulation. Avomeen's exceptional chemical analysis and formulation capabilities make them the premier laboratory for manufacturers anywhere at any time.
"We provide manufacturing problem solving services every day," says Shri Thanedar, CEO of Avomeen. "We specialize in complex chemical analysis, which is what makes our services so valuable. Manufacturers need someone who understands everything from industry standards to Nuclear Magnetic Resonance Spectroscopy and few laboratories have that degree of knowledge." This practice in specialized analysis is indeed what generates Avomeen's reputation as a leader in manufacturing testing services.
Avomeen provides specialized analysis including deformulation, product development, and failure analysis. Their customized services are available to companies no matter the locale. Companies can send samples directly to the Ann Arbor, MI laboratory through the mail or courier service for processing while receiving project coordination and communication as if Avomeen was right around the corner. Avomeen provides their services to clients across the nation, including manufacturers in California, New York, Florida, and Texas in addition to their home state of Michigan.
Customized service timelines complement their ability to provide testing and product development services to a broad geographic area. In fact, Avomeen offers rush services to their clients enabling time-sensitive projects to be completed on strict deadlines. Ph.D. scientists perform these emergency services and maintain close communication with clients throughout the process. It is this access to authorities in the field of chemical analysis in convergence with their skilled analysis that generates ongoing interest from manufactures around the country.
Manufacturers in consumer products across industries employ Avomeen's services to gain answers to their questions and develop formulations. Below is what some of their clients have said regarding Avomeen's personalized service (company names have been removed as part of our commitment to client confidentiality):
"I very much enjoyed working with the Avomeen Team. They were knowledgeable and concerned that they were meeting my needs. They also kept me up-to-date on their progress while meeting the agreed upon deadline. I fully intend to use their services, again."
A Paint & Coatings Distributor from California
"Very well done project: highest scientific level, fast turnaround, thorough report, pleasure to work with staff."
A Pharmaceutical Manufacturer from New Jersey
"I had looked everywhere to obtain [the] information you provided. All others inferred they could or would, but when it came to providing the service, Avomeen was the only one to complete the analytical informative service. I highly recommend your services to others."
An Industrial Goods Manufacture from New York
When manufacturers need chemical analysis and want the very best service on their timeline, specialized labs like Avomeen Analytical Services are the best resources available. You can fill out a quote request form on their website at http://www.avomeen.com or call (800) 930-5450 to speak directly with a senior scientist about your needs.