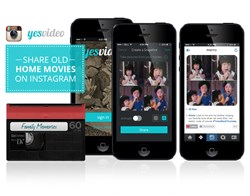 The iPhone 2.0 version of the YesVideo app makes it easy to create still photos out of videos and post 'retro-grams' to Instagram.
Santa Clara, CA (PRWEB) December 16, 2013
Today YesVideo, the leading cloud platform for video memories, launched a new way to turn old video clips into vivid social media content by posting them to popular social networking services like Instagram. The new Instagram feature is part of YesVideo's 2.0 version of its iPhone app, available for download today.
Beyond just sharing videos, the YesVideo iPhone 2.0 app now lets users capture still photos by snapping moments from old video footage. This advance in YesVideo's video editing technology allows customers to create photos that never existed before, and share them using the fun filters of the wildly popular Instagram platform - creating a "retro-gram" of sorts.
How the YesVideo iPhone 2.0 app works:
1. Drop off old home movies at one of YesVideo's 34,000 retail partner locations (including Walmart, Sam's Club, and Costco) or order directly from YesVideo.com.
2. YesVideo digitizes the footage and stores it online – for free, forever.
3. Download the iPhone app to watch dad's silly dance moves, grandma and grandpa's wedding, or your own first steps.
4. Edit videos into cool clips, or the app will automatically generate highlight reels to share with friends and family via email, or to post to Facebook or Instagram.
YesVideo's integration with Instagram has been praised by celebrities like former Miss Universe Brook Lee (http://www.yesvideo.com/brooklee/), who trusted YesVideo to transfer over her old videos of pageant days and post-pageant fun with friends and family: "YesVideo has let me regain beautiful memories of my friends and family. As someone who loves technology, I think it's amazing that I can watch a video that's over 15 years old online, and now I can even snap a photo and share it through Instagram! Re-living these moments – some of the best times of my life – has been such an emotional experience for me," said Lee, who is also a Tech Ambassador for MommyLovesTech.com.
In its easy-to-use iPhone 2.0 app, YesVideo has married the latest in smartphone technology with all forms of vintage video content. The company remains dedicated to unlocking America's memories using the latest in technology; for example, by connecting an iOS device via AirPlay to an Apple TV or HDTV, customers' vintage video memories can be streamed directly to television.
Vintage video memories are highly engaging; YesVideo customers spend 44 minutes in an average online viewing session and share with at least ten others via Facebook or email. One out of three YesVideo users share clips of their video with others through email (#1 method of sharing), Facebook, and now, Instagram.
"Now that our customers are realizing how wonderful it is to have the video history of their lives in their pockets, they are demanding more mobile features," said Michael Chang, CEO of YesVideo. "We are answering that demand with the iPhone 2.0 version of the YesVideo app and by making it easy to create still photos out of videos and post 'retro-grams' to Instagram,"
The YesVideo platform solves a massive problem with personal video– nearly a century of America's video memories are inaccessible on forms of outmoded media and too many are lost forever each day (17m per year). An estimated 1.5 billion legacy video units (8mm, 16mm, VHS, Beta, etc.) are sitting in 90 million U.S. households collecting dust. Now, with YesVideo's iPhone 2.0 app, families don't need to search for a missing VCR cord or fire up a film projector to re-live their favorite memories – they can simply reach in their pockets.
The YesVideo app for iPhone can be downloaded at the Apple app store here.
For a short video about YesVideo, please visit: http://youtu.be/DnL0V-SaGdM.
About YesVideo:
YesVideo > Brings Back Memories.
Weddings, graduations, birthdays...first steps, vacations, and holidays...
These memories are often being held hostage, with old VHS tapes and film reels collecting dust in closets, attics, basements and garages.
YesVideo can bring back those memories. We turn old family tapes and films into online videos that can be enjoyed over and over again on any connected device - computers, connected TV, smartphones, or tablets. Videos and snapshots captured from videos can be easily shared by email, Facebook or Instagram.
7 million customers have already trusted YesVideo with their favorite video memories. Retailers including Target, Walmart, Sam's Club, CVS and Costco rely on YesVideo to handle all of their video transfer needs. And once the videos are transferred online, those memories are safe & secure - stored for free, forever.