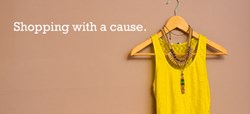 PopNod is the only Cash Back Shopping Website that I am aware of that enables a shopper to earn cash back while donating to a cause (MaximizingMoney).
Washington, DC (PRWEB) November 26, 2013
This holiday shopping season, shoppers are finding ways to shop, save and give. PopNod is a free social-impact community that enables anyone to shop online, receive cashback savings, and donate all or a portion of the cashback to a favorite cause. With Black Friday, Cyber Monday, and Giving Tuesday coming up, shoppers now shop guilt-free by saving money and giving back at the same time.
PopNod is not your typical rebate or deal site. "We believe that everyone can integrate giving into their everyday lives, and make a difference in the world. The little 'gives' add up to a whole lot more without us realizing it," explains Stephanie David, founder and CEO of PopNod.
PopNod offers cashback savings at over 250 major stores, including national brands such as Nordstrom, Zappos and Best Buy, as well as boutique stores such as NastyGal, Alex and Ani and ShopBop. The stores are carefully handpicked based on popular trends and the members' interests. In addition, members suggest causes to add to the community – both national and local organizations – such as charities, PTA's, and church groups. By doing so, PopNod empowers people to make an impact in the world.
When David married in 2009, she and her husband decided to make donations to the American Diabetes Association and American Cancer Society in lieu of wedding favors. The donations had sentimental value for them and their families. "Since then, we would have frequent debates about the power of giving, either big or small," David recalls. "I knew there had to be a simple way for anyone to give everyday." The PopNod idea was born, and a few years later, David left the corporate world to pursue her passion full-time.
The holiday shopping and giving season has fueled the momentum for the PopNod movement. MaximizingMoney writes, "PopNod is the only Cash Back Shopping Website that I am aware of that enables a shopper to earn cash back while donating to a cause." In BusinessNewsDaily's 15 Great Examples of Socially Responsible Businesses, Nicole Fallon explains, "With nearly 100 causes to support and more than 250 major retailers in categories such as apparel, electronics, beauty and entertainment, there's a partner store and cause for every consumer." This holiday season, why not shop guilt-free and help change the world by shopping with a cause?
About PopNod
PopNod is a social impact community that allows members to receive cashback savings while shopping, and at the same time, easily donate to a cause of their choice. The free community includes over 250 popular handpicked stores and supports nearly 100 non-profits and organizations. Learn more about PopNod and how you can shop with a cause at popnod.com.