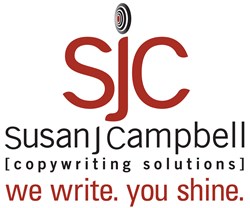 Creating rich content, comprehensive strategies and social media management combines what we love to do with what our clients need to gain a competitive advantage.
(PRWEB) November 27, 2013
Susan J. Campbell Copywriting Solutions (SJC), a leading marketing strategy and content creation firm located in Northwest Missouri, announces growth of 700 percent this year, dramatically expanding its client base. The growth of the company is a testament to the quality marketing, communications and content creation services offered to local, regional and national clients.
The growth also means that the unique business model of a woman-owned company whose employees set their own hours to accommodate their family's needs – often choosing to work at home rather than in the corner cubicle – is effective on many levels. SJC is a leader among national trends for women to hold high-value and meaningful careers in a non-traditional setting, without sacrificing quality work or family time.
Throughout the U.S. and even across the world, SJC clients are assisted by a team of professionals working together to develop brand and marketing strategies, social media management and online content creation. Whether it's a blog, article, brochure, news release, case study, white paper, social media management or comprehensive marketing campaign, SJC customizes content to the unique needs of the customer.
Susan J. Campbell founded the company in 2005 and has more than 20 years experience in marketing and professional communications. As President and senior content producer at SJC, Susan and her team have helped clients generate millions in revenue through strategic brand development, powerful content creation and effective marketing campaign execution. With a solid team of writers and communications experts focused on producing powerful campaigns for clients, SJC continues to grow.
"I'm excited about the growth we have experienced this year, not just because it means more revenue for the company, but also because it gives us continued opportunities to do what we love," said Susan. "We have an amazing team at SJC, with a solid group of writers, strategists, designers and more who all work together to produce amazing results for our clients."
Expanding into the global market share doesn't mean that SJC isn't reaching out locally. SJC continues to work with local companies in the St. Joseph area. Part of the focus at SJC is on creating content and marketing strategies for local businesses, shining the spotlight on St. Joseph and North Kansas City. SJC reached out to the St. Joseph Chamber of Commerce and became a member, which offers a better connection to local businesses that can benefit from what SJC has to offer.
"Every business should have a marketing strategy, but most don't know where to start and miss out on key opportunities for growth," said Susan. "This is where we come in to evaluate the target audience, identify what they want to hear and help build the right positioning and execution strategy to produce the desired results."
Online presence is important for companies with an eye on growth, as is brand message creation and social media management. SJC provides these services as well as fundraising appeals, business plans, newsletters, blog creation, full spectrum online and traditional marketing asset creation and execution as well as social media management.
About Susan J. Campbell Copywriting Solutions, LLC
As a full-service marketing communications and content company, SJC has impacted a wide range of small- to medium-sized businesses in commercial and non-profit sectors. It's all about hitting your target, and SJC does this by getting to know the client and the story they have to tell. Partnering with SJC involves collaborating to develop a strategy that supports the client's message. SJC knows the best channels to communicate the message, or call to action, to a larger audience. For more information, call 816-396-8575 or visit http://www.susanjcampbell.com.