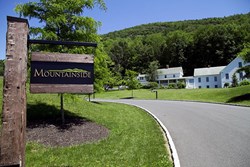 With 1,072 liquor law violations in 2012, Fairfield University is addressing the growing problem of campus alcoholism head-on.
Fairfield, CT (PRWEB) November 27, 2013
On November 14, 2013, Fairfield University hosted a professional breakfast networking event with the topic, Facing College Life in Recovery. The event, which is part of an ongoing series at the school, pulled a record crowd of 56 professionals, many of whom are in the addiction recovery field.
With 1,072 liquor law violations in 2012, Fairfield University is addressing the growing problem of campus alcoholism head-on. The college is one of the first institutions in Connecticut, and the first Jesuit College, to feature a sober living house dedicated to its male student population.
The breakfast networking event featured information and training pertaining to student alcoholics, the treatment challenges they face, and the support services the school's sober living house offers. With studies indicating that more than 31% of students on college campuses across the country meet the criteria for substance abuse disorder, and 6% for dependency, the need for on-campus support and counseling is at an all-time high.
Sarah Verrelli, Vice President of Business Development at the Mountainside Treatment Center, co-hosted this record-breaking event and had this to share, "Mountainside has enjoyed a long history of working with Fairfield University and other colleges and universities in providing their students with residential treatment for substance abuse/chemical dependency. Our continuing care planning is comprehensive to ensure the greatest success for the individual's recovery. Often, continuing care involves extended care sober living. Fairfield University's Recovery House and Collegiate Recovery Program now provides Mountainside the ability to offer college students an option to resume their education in a supportive and structured community. Students participating in this community have educational, clinical, group support, community building, and programmatic opportunities that support their decision to maintain their recovery as well as improve their academics and general life skills."
Fairfield University is one of 17 colleges across the country to join the Association of Recovery Schools. All of the colleges in the Association have programs, services, and dedicated lounges for students recovering from addictions but only a third of them currently have dedicated Recovery Houses.
About Mountainside Drug Rehab and Alcohol Treatment Center
Mountainside is nationally recognized for the effectiveness of its drug and alcohol addiction treatment programs. Our Integrative Care Model provides a comprehensive set of treatment and care offerings coordinated by a multidisciplinary treatment team to best fit the unique needs and interests of each client. We are lauded for our ability to partner with each client and the client's family and healthcare professionals in developing and executing individualized treatment plans that promote long-term sobriety.