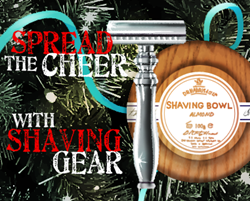 Treat yourself to a luxury shave this Christmas.
Toronto, ON, Canada (PRWEB) November 26, 2013
Christmas (and the many other observances that make up the Festive Season) can present a challenge for those in search of that perfect gift for a loved one. Online retailer Kaliandee are attempting to alleviate some of the stress of finding a gift for the man (or men) in your life with their selection of carefully chosen shaving and grooming products. All purchases can be gift wrapped at no extra cost, and gift certificates are available (especially useful for giving a wet-shaving enthusiast permission to indulge in their hobby!). Men who already know what they want can register for a free account on the Kaliandee website, and add any product that piques their interest to a shareable Wish List.
According to John, Kaliandee's product expert, the most popular gifts for men are high-end colognes, premium shave creams, shaving brushes and shaving sets, particularly the 3 and 4 piece sets.
"If you're buying for someone who currently uses only modern products, then a good option is a shaving brush and a classic soap or cream, as they really improve the quality of a shave regardless of what razor you use. For fragrances, Sandalwood has always been popular, as have citrus based scents such as D.R. Harris' Arlington Cologne or Taylor of Old Bond Street's Victorian Lime. Some manufacturers, such as Edwin Jagger, Taylor's and Klar do nicely presented gift sets, good for both beginners and more experienced shavers."
An expanding range of 3, 4 and 5 piece shaving sets featuring combinations of shaving tools carefully chosen by the Kaliandee staff make excellent and lasting gifts, as well as solid introductions to old fashioned razors and shaving gear. Sets exist for various budgets and levels of skill and interest, from sub $90 three-piece sets to high-end kits over $200. The Kaliandee website now has a gift guide with suggestions for fragrances, soaps, creams, razors, brushes and sets.
Grooming kits featuring the essentials such as nail clippers, tweezers and hair trimmers are also attracting a lot of interest, as a good quality set will last a lifetime. The Rolls Royce of grooming kits is probably the Razor, Clipper and Manicure set from Dovo, presented in an attractive cowhide case. Dovo are a renowned manufacturer of straight razors and grooming tools, based in Solingen, a German town with a long history of producing high-end razors and steel implements.
Based near Toronto, Kaliandee are well placed to supply shaving and grooming goods across North America. A source of information as much as a retailer, their advice pages and blog are a resource for men interested in perfecting their shaving routine, or who need some advice on choosing the right products. Kaliandee's free gift wrapping service introduced earlier this year is ideal for those who dread gift wrapping, or who need to send something to loved ones at a distance.
For more information on getting started with wet-shaving, see Kaliandee's advice page or blog.