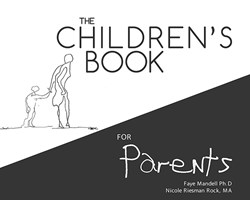 Most parents have lost contact with their inner child.
Pensacola, Florida (PRWEB) November 27, 2013
The Children's Book for Parents is a revolutionary new book that allows the reader to enter their child's world and have a chance to see everyday situations from a child's perspective. All parents have been children, yet as adults, they have lost contact with their own inner child. When there is friction between children and parents, it is usually the result of the parents' inability to reconnect to the natural way that children participate with their environment. If parents could go back into the experience of their own childhood, they could reconnect to the world as a child experiences it.
The book is based on a model that builds upon basic human experience and helps a parent stay focused on participating with a child to create joy, wisdom and relationships. The parent is asked to go into the world of the child instead of having the child enter the world of the adult.
The format of the book is created in two parts to appeal to those looking for a quick read and those who would like to delve further into the foundation of the theory. Additionally, the latter part contains a workbook to guide the reader and practice experiencing the shift from thinking to experiencing. In actuality, this book is an open invitation and a true call to action to share one's own stories through an interactive website http://www.being-present.com/the-childrens-book-for-parents/.
The Children's Book for Parents is the first in a series of books that help groups of readers use The Self-Powerment Model to live in the present.
Faye Mandell holds a Ph.D. in psychology from Boston College. She developed the Self-Powerment Model as a new paradigm for mental health and leads workshops throughout the country. She works as a Life Coach for individual clients and several Fortune 500 companies. She resides in Florida with her children and partner.
Nicole has the unusual perspective of having been both a client and trainer. She earned her BA in psychology from Clark University and her Master's degree from NYU's School of Education before becoming a stay-at-home mom in NJ. She loves helping parents experience a new way to create meaningful and authentic relationships with their children. She lives in New Jersey with her husband and three children.
Indigo River Publishing is a modern and progressive publishing house based in Pensacola, Florida. Indigo River Publishing utilizes unique strategies allowing for production of literary product quality to be on par with the large publishing houses, while still remaining small and flexible enough to remain on the cutting edge of the industry. With Indigo River publishing you will always find…words worth reading. Their website is: http://www.indigoriverpublishing.com.