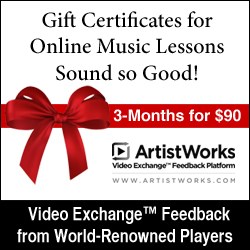 Now anyone can easily and conveniently give a unique online music or art experience to their loved ones this Holiday season - for about a dollar a day.
Napa, CA (PRWEB) November 26, 2013
ArtistWorks, the leading interactive lifestyle social learning platform, today announced the availability of both digital gift certificates and physical gift cards for their 24 online interactive Video Exchange™ music and art schools.
Now anyone can easily and conveniently give a unique online music or art experience to their loved ones this Holiday season - for about a dollar a day. Whether it's a Christmas gift, Hanukkah gift or a gift for yourself, these cards and digital certificates can be purchased ahead of time, or are perfect for that last minute gift. You can give them as a same day gift or a printable gift too!
ArtistWorks' online music lessons have long been known for their unique Video Exchange Feedback Platform, where an average music lover – beginner to advanced – can submit practice videos and receive video feedback from world-renowned teaching artists like Paul Gilbert, Nathan East, Mike Marshall, Tony Trischka, John Patitucci, Howard Levy, DJ Qbert and more. Currently, tens of thousands of members in nearly 100 countries have improved their playing with ArtistWorks' unique learning communities.
How the Creative Gift Program Works:
1. Give a gift card or digital certificate to the lucky person in your life.
2. They can redeem the code on their Gift Card or from the digital certificate and receive three months of online lessons at the ArtistWorks instructor school of their choice.
3. Once enrolled, they begin with access to a comprehensive library of pre-recorded video lessons from beginner to advanced. They can view these lessons at their own pace, whenever they have time.
4. When they want guidance, they can submit practice videos to their world-renowned teacher through the ArtistWorks Video Exchange™ Feedback Platform using their webcam, phone, iPad or video camera.
5. Their all-star instructor will review the video submission and respond with video feedback designed to help the student get better – fast.
ArtistWorks Music and Art Gift Cards retail for $90 for three months unlimited access and can be purchased at Amazon.com and Rakuten (Buy.com), among other outlets. Digital gift certifiicates can be purchased directly at ArtistWorks.com
For more information, visit ArtistWorks.com/gift-certificates
About ArtistWorks, Inc.
In 2008, former AOL executive David Butler set out to finally master jazz guitar. With no acceptable teachers in his area, he built a revolutionary online system to enable anyone to get direct feedback from a master teacher anywhere in the world. Today, ArtistWorks, Inc. is the leader in a new generation of online learning platforms. This "next generation" Video Exchange™ Feedback Platform enables world renowned artists and musicians to "teach the world" by presenting their artistic legacy in the form of HD video lessons and direct feedback to subscribing students. Utilizing simple web cams, smartphones, tablets or video cameras, students are able to submit practice videos and get individualized video feedback and guidance from their teaching artists - creating a constantly evolving two-way, online learning experience.
ArtistWorks currently offers schools from such world-class artists as: Paul Gilbert (rock guitar lessons), Martin Taylor (fingerstyle guitar lessons), Jason Vieaux (classical guitar lessons), Andreas Oberg (jazz guitar lessons), Jeannie Deva (singing lessons), Nathan Cole (violin lessons), Jeffrey Khaner (flute lessons), William Caballero (French horn lessons), David Bilger (trumpet lessons), Ricardo Morales (clarinet lessons), Nathan East (electric bass lessons), John Patitucci (jazz bass lessons), Howard Levy (harmonica lessons), DJ Qbert (DJ lessons), Christie Peery (piano lessons), Billy Cobham (jazz and fusion drum lessons), Luis Conte (percussion lessons), as well as the ArtistWorks Academy of Bluegrass with Tony Trischka (banjo lessons), Missy Raines (double bass lessons), Bryan Sutton (flatpick guitar lessons), Andy Hall (Dobro lessons), Mike Marshall (mandolin lessons), Darol Anger (fiddle lessons), and Justin BUA (art lessons). For more information, visit ArtistWorks.com