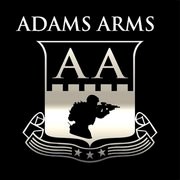 The new and improved platform will be designed to serve our customers better, support new products coming in, and enhance customer interaction through easier navigation and improved functionality across all devices. - Bryan Froning, Director of Sales
St. Charles, MO (PRWEB) November 27, 2013
Adams Arms, developer of the first and only patented retrofit kit for the AR-15 platform, has partnered with Anchor Communications, an Inbound Marketing agency located in St. Louis, Missouri. Adams Arms aims to upgrade their site, improve its functionality, and create a much easier site to navigate for visitors and customers.
Adams Arms will revamp their eCommerce site by redesigning the look and feel to be more visually appealing and user friendly as well as improving the online store so that it is easier for visitors to navigate and find products. The site will also be mobile friendly for customers shopping via mobile phone. Adams Arms' Director of Sales Bryan Froning summed up, "The new and improved platform will be designed to serve our customers better, support new products coming in, and enhance customer interaction through easier navigation and improved functionality across all devices."
In order to accomplish all of these upgrades, Adams Arms is using the eCommerce software Magento to create their new eCommerce store. Magento offers eCommerce solutions designed to help companies grow and succeed online. Their platform allows clients to control the content, functionality, look, and feel of their online store.
--
Adams Arms is a company committed to providing cutting edge technology to meet the needs of their customers. Their dedication to developing products, such as the Adams Arms piston driven system, that will improve performance and minimize maintenance costs is unmatched by anyone else in the market today. Additionally, their patented retrofit kit for the AR-15 platform seeks to save customers thousands of dollars by offering an affordable upgrade option instead of the high cost of replacing weapons. For more information visit Adams Arms today.
Established in 1992 as a creative full service advertising agency, Anchor Communications recognized the change in technology and consumer behavior of today's world, and has adapted to a new form of marketing. Anchor now applies inbound marketing methodologies using a multi-channel strategy that allows potential prospects numerous ways to find you and engage with you. This is achieved by creating informative, unique, and relevant content and then publishing it through multiple channels to drive traffic and encourage viral sharing of that content.