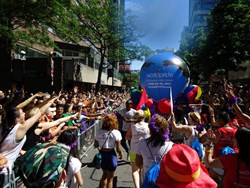 WorldPride 2014 Toronto is an international celebration taking place from June 20 – 29, 2014 that incorporates activism, education, and the history and culture of global LGBTTIQQ2SA* communities.
Toronto, Ontario (PRWEB) November 26, 2013
The Awards for Action were established in 2002 by the Legal Network and Human Rights Watch, to highlight outstanding contributions that decrease vulnerability to HIV and AIDS, and protect the rights and dignity of those infected and affected. They honour excellence and commitment to work that has a direct impact on HIV and AIDS and human rights issues — in particular work that directly benefits marginalized individuals and communities.
The Awards for Action is also a benefit event for the Legal Network and will feature Svend Robinson as keynote speaker, and will take place at the Bram and Bluma Appel Salon (Toronto Reference Library) on December 1, 2013 at 7 p.m.
Canadian Award- Grandmother's Advocacy Network (GRAN):
GRAN is composed of volunteer grandmothers and grand-others from across Canada. GRAN's mission is to advocate in meaningful and strategic ways for the grandmothers of Africa and the children in their care orphaned by AIDS. Launched in 2006 on the eve of International Women's Day by the Stephen Lewis Foundation to put a human face on the complex global issue of HIV/AIDS, GRAN's members talk to MPs, conduct surveys and circulate petitions, write letters and postcards, attend relevant parliamentary committee hearings, hold rallies and sometimes protests in the streets. Their goal is to ensure Canadian and international support for AIDS prevention, care, treatment and support in Sub-Saharan Africa, and that policies, programs and resources improve the conditions of life for African communities, grandmothers and AIDS orphans.
International Award - Alternatives-Cameroun:
Alternatives-Cameroun is an organization working for equality, tolerance, and respect for people who suffer from social exclusion. Alternatives-Cameroun was founded by young Cameroonian professionals fighting for human rights in Cameroon, especially for the rights of people who have same-sex relations. Founded in 2006, Alternatives-Cameroon envisions a Cameroonian society that is principled and strong, democratic and tolerant, and that affirms individual as well as social and economic rights. Their mission includes the fight for the respect of human rights — especially the right to access medical services, information and education — for sexual minorities who are too often vulnerable to discrimination. In addition to fighting for LGBT rights, Alternatives-Cameroun provides essential prevention and treatment services to those living with and affected by HIV.
About WorldPride 2014 Toronto and Pride Toronto
WorldPride 2014 Toronto (WP14TO) is an international celebration taking place from June 20 – 29, 2014 that incorporates activism, education, and the history and culture of global LGBTTIQQ2SA* communities.
WorldPride 2014 Toronto is presented by Pride Toronto, producer of Canada's largest annual festival of LGBTTIQQ2SA* culture and human rights, under license from InterPride.
Pride Toronto is the not-for-profit organization that hosts the city's Pride Festival, an annual event in downtown Toronto during the last week of June and one of the premier arts and cultural festivals in Canada. It is also one of the largest Pride celebrations in the world with an estimated attendance of over one million people. It celebrates the history, courage, diversity and future of Toronto's LGBTTIQQ2SA* communities.
*LGBTTIQQ2SA is an abbreviation used to represent a broad array of identities such as, but not limited to, lesbian, gay, bisexual, transsexual, transgender, intersex, queer, questioning, two-spirited, and allies.