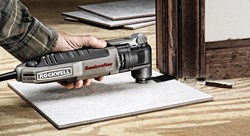 Rockwell's Universal Fit solution is our way of guaranteeing consumers that regardless of the tool they own, we have a blade or accessory that will fit their tool without compromise. - Pete Denley, Rockwell's product manager
Charlotte, NC (PRWEB) November 26, 2013
Most other oscillating multi-tool brands have their own proprietary accessories. So users are stuck with an expensive proprietary system or need to drive across town to buy the branded blades that fit their tool. Some competitors offer adapters to help make their tools compatible with other brands, but sometimes the fit is less than ideal.
Rockwell offers a solution that fits. The company has set up a tool challenge giveaway on its Facebook page that allows visitors the chance to fit Rockwell end cut blade on the tools of 13 other brands. If the blade fits, visitors advance for a chance to be selected as one of five Grand Prize winners who receive a Rockwell tool of their choice or become one of the 100 winners who take home a Sonicrafter end cut blade pack. To learn more about the giveaway, which concludes 1/31/14, go to Rockwell Tool's Facebook page or click here.
"There are so many oscillating tools out there today, which makes it difficult for consumers to decide," said Pete Denley, Rockwell's product manager. "Rockwell's Universal Fit solution is our way of guaranteeing consumers that regardless of the tool they own, we have a blade or accessory that will fit their tool without compromise."
Rockwell's Universal Fit blades and other accessories are a win-win. Sonicrafters and Sonictool accept Universal Fit accessories, as well as prior-model Rockwell hex-shape accessories and competitors' accessories.
In addition to Universal Fit, the Sonicrafter X2 features Hyperlock™, a tool-free (quick-release) that provides one ton of clamping force to prevent slippage of blades and other accessories. This is the highest accessory clamping force on any tool-free oscillating tool. It eliminates stopped cuts due to blade slippage in the tool.
The Sonicrafter X2 (RK5140, $140) has a 3.0 amp motor and a 10 ft. power cord. It is the most powerful and fastest cutting Sonicrafter in the Rockwell line. The tool has a variable-speed dial and an internal constant speed control, which electronically maintains speed-of-cut under load. Oscillations per minute (OPM) are11,000 -20,000 and the oscillating angle is 3.2°. The tool weighs 3.30 lbs. It includes nine Universal Fit accessories. The tool's warranty is 3 years.
The Sonicrafter X2's tool case is compact, waterproof, and features separate bulk storage areas for quick and easy access to the tool and accessories. Its rigid, durable construction provides ease of stacking and transporting.
The new Rockwell Sonicrafter X2 and other Sonicrafters are available at http://www.rockwelltools.com and other websites, including Menards and Lowe's, as well as regional hardware and home centers nationwide.