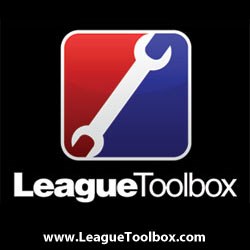 We just signed up last month and did the trial. Within 5 days we had to activate. Your software is truly a dream come true.
(PRWEB) December 04, 2013
"It's every 12 year old boy's dream to be like a major league ball player. LeagueToolbox has made part of that dream become a reality. Now every kid can show off his stats from the game yesterday, online, to all his buddies like he was in the major leagues," Chris Christie of LeagueToolbox said they have had so many parents comment on how excited their kids are with these new features that let them show their friends and family.
Whether you track just a few simple stats or go crazy with advanced statistics, LeagueToolbox now has it covered. Statistics for all of the major sports are directly built into the system and available for immediate use.
Choose which statistics you wish to track for your League and easily add any additional custom statistics that your League may have. "Entering statistics is easy. It has to be simple. And that is the approach we took with all features including statistics," Christie said.
Coaches can enter as many or as few statistics as they like for their players. All of the "average" and other formula statistics are calculated instantly and automatically by the system.
Category leaders can be prominently displayed as well.
Nice looking player leaderboards and statistic pages are prominently displayed on each league's public website. Optionally, leagues can hide statistics from other teams by having them display to "logged in" team members only.
Customizable LeagueToolbox Player Ratings is also a new feature that make it fast and easy to track player evaluations. Flexibility and the ability to quickly enter mass ratings are what make this a great feature.
Whether a League uses a player rating system out of 5 or a rating system out of 100, the system is fully customizable to meet a league's particular ratings needs.
Player ratings are never deleted or overwritten. The system keeps a detailed history of all player ratings over each of their careers.
Be sure to check out the new features for 2014 and all the amazing tools LeagueToolbox can offer your league at http://www.LeagueToolbox.com.