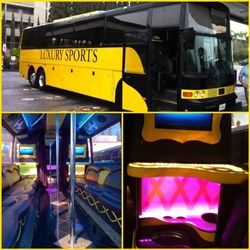 (800)983-9824The Cheapest Rate for a Party Bus Rental
Los Angeles, CA (PRWEB) November 25, 2013
Luxury Sports Limousines announced that they are offering Black Friday specials for their limousine & party bus rentals in the Los Angeles area. Luxury Sports Limousines provides luxury ground transportation for both corporate and leisure travelers. Luxury Sports Limousines' services and packages are completely customizable to benefit their customers. Luxury Sports Limousines can provide a wide range of limousines and party buses to fulfill the demands of the customers.
"Luxury Sports Limousines has been called the best in the West. With over thirty years of service in California, Arizona and Nevada, with rates that nobody else can touch." – said Arnold Levine, of Marriot Resorts.
Luxury Sports Limousines, now the largest limousine service provider in Los Angeles, is able to provide the widest range of luxury ground transportation options for the lowest prices. Luxury Sports Limousines evaluates each and every customer's demand and provides customized services and packages to ensure the exceptional traveling experience.
Luxury Sports Limousines' professional staff is available 24-hour to assist customers with all of their needs. Luxury Sports Limousines' chauffeurs are professional and polite with years of experience in providing the highest-levels of customer service. Luxury Sports Limousines' chauffeurs have the knowledge of the local area to make travel convenient. To find more information about the limousine and party bus rental in Los Angeles by Luxury Sports Limousines, please visit http://www.luxurysportslimousines.com/