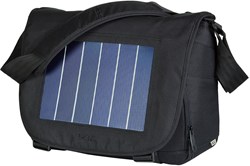 Shoulder Bag with a Charge
Madrid, Spain (PRWEB) November 27, 2013
In July of 2010, SEIZ introduced their innovative U01solar, that allows users to charge their mobile devices while using the pack. Now, the inventors and designers at SEIZ have designed a shoulder bag with all the durability and functionality of the backpack and the sophisticated style of a shoulder bag.
The Urbanpack M01solar is the answer to the professional who does not want to use a backpack, but needs the space and functionality that one would afford them. This shoulder bag is sleek and stylish on the outside, with solar cells designed to allow users to charge their PDAs, GPS devices, MP3 players and mobile phones while the devices are in the bag, even when it is being worn.
Inside is a specially designed adjustable compartment to protect your laptop. Made from the same state-of-the-art material as the U01 backpack, the M01solar is rugged and sleek, with lines reminiscent of a fine European sports car. Arrive in style, with every device you need to maintain your business information fully charged and ready to work for you.
The idea behind SEIZ originated with a group of young entrepreneurs, engineers and designers, who rallied around a common goal: the creation of an ideal daily companion that would simplify their lives. Since that day, the SEIZ team has plunged into the adventure head first and is working continuously to develop a new generation of urban backpacks that are more practical, more technologically advanced and better adapted to the rapidly-changing urban lifestyle.
To learn more about SEIZ you can visit their website at http://www.seizpacks.com