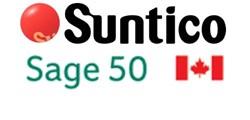 Spend less than $600 to gain over $25,000!
(PRWEB) November 26, 2013
Now, unlocking this information is easier than ever thanks to Suntico– the social workplace for busy companies – who announced today new links to Sage 50 Accounting (Simply Accounting). Providing a secure "social layer" over a company's financial data, Suntico breaks down barriers between departments. It helps people to find answers to questions like: When will this invoice get paid? Why is this order still outstanding? What is the latest with this customer?
Without a companywide system to capture customer notes and events, answers to these critical questions just get buried in personal inboxes. People spend too much time just looking for information.
Saving just one hour a week for 10 employees at $50 per hour is worth over $25,000 per annum. The value may be even more than that. According to McKinsey Global Institute, knowledge workers lose about six hours per week simply looking for and gathering information.
Suntico's extremely powerful search capability helps you find any record or transaction just by typing in any of the characters in the record name. Records may also be bookmarked, enabling each user to quickly retrieve a list of the records that are of particular interest to them.
Then, a social style wall and interface makes Suntico come alive by providing an extremely simple way to post a note, file or hyperlink to an account or contact, or transaction. Anyone following you, or the record, will also see the note in their wall. The ease of use makes it simple for people to share and recover information companywide.
You can access a demo account or free trial of Suntico at http://suntico.com/pricing/. Companywide implementation can form part of a free trial with no obligation to purchase. Prices range from $185US/year for 2 users to $1,495US/year for a 40 user subscription. There is an attractive referral program for IT professionals and bookkeepers that provide support to companies that use Sage 50.