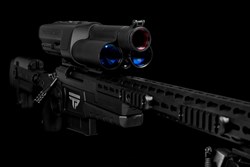 'We have received more than a hundred videos back from our first adopters showcasing their long distance and moving shots on game,' said CEO John Lupher. 'With so many incredible shots, we thought we should showcase the best.'
Pflugerville, TX (PRWEB) November 26, 2013
TrackingPoint, creator of the world's first Precision Guided Firearm, announced today the foundation of "PGF World Records", an initiative for smart rifle owners, setting out a bold mission statement to support its users in taking truly magical shots with their Precision Guided Firearms.
"We have received more than a hundred videos back from our first adopters showcasing their long distance and moving shots on game," said CEO John Lupher. "With so many incredible shots, we thought we should showcase the best. We want to encourage our users to test the boundaries of PGFs and make shots the world has never seen."
The "PGF World Records" program will document exciting shots and hunts around the globe to showcase the achievements the world. Initial categories include "Longest Shot", "Extreme Conditions", "Extreme Angle & Distance", "Trophies Past 1000 Yards" and "Fastest Moving Target Shot", with all categories having a regular and juniors category (for PGF users under 18 hunting and shooting with their parents).
TrackingPoint recently celebrated six months since first customer shipment and has delivered hundreds of smart rifles to excited long range hunters and shooters. The company recently relocated to a new 48,000 square foot facility in Pflugerville, TX allowing for expanded production and faster customer shipments.