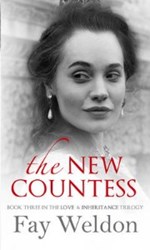 award-winning author Fay Weldon CBE will host the third in the series on Tuesday 3rd December
London, United Kingdom (PRWEB) November 27, 2013
After the success of the first two Literary Lunches at The Savoy, featuring Michael Morpurgo and Neil Gaiman, Kaspar's Seafood Bar and Grill is pleased to announce that the award-winning author Fay Weldon CBE will host the third in the series on Tuesday 3rd December. Lunch will begin at 12:30pm, and tickets will be priced at £47, including a three-course meal with wine at London's premiere luxury hotel. Guests will have the opportunity to meet Fay Weldon after the lunch, who will welcome questions and sign copies both old and new.
Award-winning author, essayist and playwright, Weldon is a former writer-in-residence at The Savoy and her impressive career has seen her write over 30 novels including The Life and Loves of a She Devil, Puffball and Chalcot Crescent. She has also written 5 full length stage plays, several radio plays, five collections of short stories plus numerous TV dramas, including the pilot episode of the original TV series Upstairs Downstairs.
During the London Literary Lunch, Weldon will read from The New Countess, the final instalment in the Love and Inheritance Trilogy. Weldon will also touch on the inspiration behind her writing and how she has managed to keep her writing relevant and fresh over her long career.
For bookings and further information on future Literary Lunches call Kaspar's direct on
+ 44 (0) 20 7420 2111 or visit http://www.kaspars.co.uk/.
Kaspar's Seafood Bar and Grill, The Savoy, Strand, London WC2R OEU
About The New Countess
The New Countess is the final instalment in Fay Weldon's brilliantly executed Love and Inheritance Trilogy. Following on from Habits of the House and Long Live the King, the final novel in the trilogy continues to follow the aristocratic Dilbernes family. The year is 1905 and Isobel, the Countess, finds that money can't solve everything. Bad enough that King Edward VII has invited himself and his mistress down for a shooting weekend at Dilberne Court, a run-down mansion which in a few short months Isobel must turn into a palace fit for a king; the servants are scandalised and family troubles loom. His Lordship is enjoying a meteoric rise to the top of the political establishment, but Isobel's daughter Rosina, back from Australia, is determined to publish a damaging and scandalous book; her son Arthur seems resolved to turn their peaceful country estate into a motor racing track; and as for her daughter in law Minnie from Chicago – Minnie causes so much trouble Isobel must bar her from the door. True love, as ever, is the problem. When fate deals its hand in the middle of the shooting party, these troubles fall into perspective. Isobel must look to a changed future. But it's an ill wind that brings no-one any good.
About Kaspar's Seafood Bar and Grill
The opening of Kaspar's Seafood Bar and Grill is one of the most exciting London new restaurant launches in the hotel's 124-illustrious history. Located in the heart of London and with panoramic views of the River Thames and London landmarks, Kaspar's Seafood Bar and Grill is an informal yet luxury dining experience, presented in an elegant Twenties-style setting. The vibrant new design evokes The Savoy's rich and glamorous past, whilst creating a sought after but relaxed and family friendly dining environment, where Kaspar, The Savoy's most famous four legged feline now resides.
Additional information:

The New Countess, written by Fay Weldon, published by Head of Zeus, £14.99 hard back.
Former writers in residence at The Savoy include Noel Coward, Oscar Wilde, Henry Fielding and Kathy Lette.
Kaspar's Seafood Bar and Grill is open for breakfast, lunch and dinner seven days week. Pre-theatre and children's menu also available
The hotel is managed by Fairmont Hotels and Resorts
-Ends-
For further press information or images, please contact:-
Emma Allam, Director of Communications, The Savoy
Email: emma(dot)allam)(at)fairmont(dot)com or Tel: +44(0)20 7420 2329
Charlotte Faith, PR Manager, The Savoy
Email: charlotte(dot)faith(at)fairmont(dot)com or Tel: +44(0)20 7420 2372