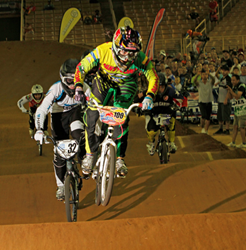 Mariana Pajon has won the World Championships, she's won an Olympic gold medal, but she has yet to win a USA BMX national championship. A win in Tulsa could finally complete her BMX resume as the most winningest female in BMX.
Gilbert, AZ (PRWEB) November 28, 2013
Both professional BMX racers and Olympians from all over the World will be joining North America's fastest amateur racers this weekend in Tulsa, Oklahoma, to compete for the illustrious USA BMX No.1 Championships. Over half of the 48 competitors from last year's London Olympic Games are expected to compete, alongside more than 3,500 amateur entries, representing over 47 states and eighteen countries.
Among those competitors will be the pride of Colombia - last year's Olympic gold medalist in Elite Women BMX, MARIANA PAJON. She will be arriving in Tulsa on Wednesday evening, fresh from a BMX event in Peru. The former BMX World Champion is in her first-ever quest for the U.S. National No.1 Pro Women title - and enters the event leading points by 51 points, ahead of Minnesota's Alise Post - a member of last year's U.S. Olympic squad.
Both Mariana and Alise are hoping to dethrone the reigning Queen of USA BMX. For the past five years, there's only been one lady hoisting the silver No.1 Pro Cup above her head in Tulsa - and that person is "3D" Dominique Daniels. This season, though, Dom has experienced more competition than ever - with a healthy Alise Post scoring most of the wins early in the season and then Mariana Pajon taking the final five wins of the year to put herself in the points lead.
Haro Bike's Brooke Crain - another U.S. Olympian, has been consistent this season with top-3 finishes, and remains in the title chase as a longshot. Current World Champion and Australian Olympic team member Caroline Buchanan - while not in the title chase, could also play a big factor in the Championship race.
This year's battle for No.1 Woman Pro title is bound to be the best one ever in the history of the sport. A win for Pajon would be a great way to finish off her season, and would cement her name as one of the all-time fastest women in BMX racing history.
Altogether, there are seven individual National Championships to be decided this Thanksgiving weekend, during the USA BMX Grandnationals in Tulsa, Oklahoma. Besides No.1 Pro Woman, there are also No.1 title for Pro, Vet Pro, Amateur Boys and Girls, and Men and Women cruiser. The chase for No.1 Vet Pro (for 33 year olds & over) is once again come down between Argentinians Cristian Becerine and Javier Colombo. Last year, Becerine won the No.1 plate for Vet Pro - becoming the first South American to win the U.S. national championships.
The USA BMX Grandnational will be held indoors - at the newly re-named River Spirit Expo. Riders from around the globe will converge in Tulsa for what has been dubbed for decades as "The Greatest Race on Earth." Last year's event saw a record turnout, with over 3,400 entries from 18 countries, and this year's event is expected, for the first time, to reach the milestone 700-race mark.
The BMX World will find out on Saturday night - November 30th, during the Pro Championship Finals, whether Pajon will clinch the USA BMX National No.1 Championship. For those not able to make the trek to Tulsa - the racing action can be viewed live, online at: usabmx.com/webcast.
----- end -------
ABOUT USA BMX: Formed in 1977 as The American Bicycle Association, USA BMX is headquartered in Gilbert, Arizona, and organizes BMX racing for boys, girls and adults, throughout the United States, Canada, and Puerto Rico. With over 70,000 active members who compete on a weekly basis at over 370 racing facilities in 49 states, the family-oriented Olympic sport of BMX Racing continues to grow.
USA BMX, with a 30 event national race schedule, is the largest promoter of action sports in the country.