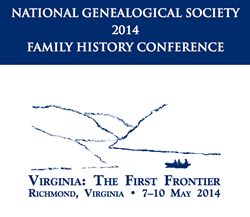 To Be Rooted Is Perhaps The Most Important And Least Recognized Need of the Human Soul. --- Simone Weil
(PRWEB) November 28, 2013
AncestorEbooks announces the registration period for the May 7-14, 2014 National Genealogical Society's Family History Conference. Pre-Registration, which includes a fee discount, will begin on December 1, 2013 and continue through March 24. [bit.ly/IejvQI]
Next year's 7-day conference will include ten "tracks" per day, covering topics such as records for Virginia and the surrounding states; migration to and from the region; ethnic groups such as African Americans, Germans, Irish, and Ulster Scots; and the use of technological advances, such as genetics, mobile devices, and a variety of Apps.
The 2014 NGS Family History Conference begins with an Opening Session entitled, "The Evolving Library: Planning and Adapting to Meet the Needs of Twenty-First Century Researchers." This session will focus on the changes that have occurred for library patrons who rely heavily on digital and searchable resources.
Participants will choose which interest they will follow throughout the conference, from a focus on methodology & skill building workshops, specific ethnic groups or migrations to and from the Virginia area. [bit.ly/IejvQI]
There will be two no-cost options as well. The first, is limited to 110 pre-registered Librarians, which will occur the day before the conference is set to begin. This special 'Pre-Conference Librarians' Day' at the Library of Virginia is sponsored by ProQuest, and will include the creation of the Virginia Slave Birth Index as well as managing helps when providing access to archival research collections.
The second no-cost opportunity is a Youth Camp, on Saturday May 10, 2014, which is also limited to advanced registration. Family History will be taught to youth (ages 8-16) through age-appropriate activities, and a session on the Boy Scouts of America genealogy badge will also be included during this time. [bit.ly/IejvQI]
"This is an exciting workshop with many outstanding breakout sessions," declares Gayla Mendenhall, of AncestorEbooks.com." The National Genealogical Society has included something for everybody, from Tricks and Tips to Ethnic Emigration, and is a fantastic opportunity to increase your skill base and learn new research methodologies."