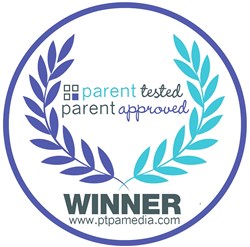 This is one of their favorite games right now; it doesn't even have a chance to go back in the game cupboard.
Toronto, Ontario (PRWEB) December 09, 2013
Just in time for the Holiday shopping season, Parent Tested Parent Approved (PTPA) Awards releases their Top Holiday shopping list of Gifts for 2013. Whether purchasing for a toddler or a grown-up, these products will be sure to bring a smile to anyone's face this holiday season.
Keurig K-Cup Platinum Brewer System: The ultimate in-home café for the whole family to enjoy hot cocoa, tea and of course, coffee at the press of a button!
"It's perfect for my little family and it's a pleasure to have so many choices to offer my guests when they come over. It's a definite must-have for any coffee loving family!" - PTPA Tester
Big Hugs Elmo: Sure to be one of the hottest toys for the holiday season, Elmo hugs, sings lullabies and has 50+ animated sounds and phrases."…from hugging to singing to dancing to sleep - there is huge variety in how you can play and engage with this new Elmo." - PTPA Tester
Skylanders Swap Force: Dynamic swapability is what will excite all Skylanders fans! The popular franchise now has swappable characters making over 250 unique combinations of characters. "Skylanders Swap Force is hands-down the toy of the year. My son could spend endless hours playing this with his friends and constantly be challenged. He loves every minute of it!" - PTPA Tester
Playskool Showcam 2-in-1 Digital Camera and Projector: A kid-friendly digital camera with built-in projector that will kick any kid's creativity into high gear!
"Every night after a day of "adventures" we sit down and have a slide show. The kids love it and are so proud of all of their pictures." - PTPA Tester
Kurio 7s Tablet: Considering investing in a tablet for the family? This one allows for up to 10 separate user accounts! "In less than 20 minutes I set a user (account) up for each of my four children. It comes with time management, preloaded educational content and extremely user friendly" - PTPA Tester
Speedy Recall: Get their minds moving this holiday season with this fast-thinking family game! "It's a quick game and is great for an interactive, competitive family activity… it results in laughter and creative thinking every time." - PTPA Tester
ChordBuddy: Whether just starting to learn to play an acoustic or electric guitar, this gift is probably the easiest way to teach the basics and their first tune. Great for kids and adults! "Great product for those who have never played guitar before. Easy way to self-teach along with instructional DVD and ability to teach at your own pace which is great!" - PTPA Tester
Army vs. Aliens Challenger Series: Dice are back and in a big way! This series tests players skills in a fast-paced dice combat. Combine strategy and luck to outsmart opponents and win!"This is one of their favourite games right now; it doesn't even have a chance to go back in the game cupboard" - PTPA Tester
In need of more ideas? For a full list of PTPA's of award-winning products that will make great gift ideas, visit their Holiday Gift List here.
PTPA Media's Founder, Sharon Vinderine is available for media appearances with all of the products included in the holiday gift list. For more information on Sharon, please visit click here or contact info(at)ptpamedia(dot)com.
PTPA Media provides an objective framework for appraising new products designed to enrich family living. The company's mission is to provide families with a credible source of objective feedback for consideration when making their purchasing decisions for their families. PTPA is recognized by the media across North America as a leader in the family awards industry and their community of parent testers exceeds 60,000 families. The PTPA Seal of Approval is a recognized objective certification that is used by thousands of products and can be seen on product packaging, television commercials and online and printed flyers.