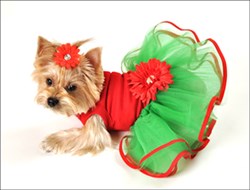 As many as eighty percent of dog owners buy their dog a present for holidays and birthdays.
Houston, TX (PRWEB) November 27, 2013
The 2013 holiday season is upon us, and it is time to shop for loved ones. Doggy In Wonderland is pleased to announce that they have gift items for dogs, cats, and pet lovers. It is no secret that pets are a part of the family to most pet owners. As many as eighty percent of dog owners buy their dog a present for holidays and birthdays. More than half of them sign letters and cards from themselves and their pets. Doggy In Wonderland provides a wide variety of dog toys and cat toys as well as dog apparel including Christmas themed toys and clothes to help the pet lover prepare for the holiday season for their pets.
"We love the holiday season and our pets. They have their own stockings, and they love to dig their prizes out of them each year. They get so excited when the packages start coming out. We carefully select the holiday items that we love, and we believe that our customers and their pets will love them, too," one managing partner expressed.
Doggy In Wonderland will be rolling out Black Friday and Cyber Monday deals such as free shipping. They will also offer extra discounts exclusively to their newsletter followers. In order to receive these additional special offers, customers need to sign up for their E-mail Newsletter. In addtion to Black Friday and Cyber Monday deals, Doggy In Wonderland plans to offer other specials throughout the holiday season.
Doggy In Wonderland recently expanded their Gifts for Pet Lover s category so shoppers can find gifts for their pet lover friends and family. "We love pet themed items such as jewelry, mugs, and household items so we have added many fun items to this new category. We are continuing to add items to this category. There is so much we want to add. We hope our customers will love these items as much as we do,' shared the managing partner.
In addition to gift ideas for the pet lover, Doggy In Wonderland also offers e-Gift Certificates. These gift certificates come in denominations of $25, $50, $100, and $150. The gift certificates help with those hard to buy for pet lovers. The gift certificates will be sent via e-mail to the recipient or they can be mailed if preferred.
About Doggy In Wonderland:
DoggyinWonderland.com is a BBB accredited online pet boutique offering a wide selection of pet accessories and other products for dogs and cats. This includes a full line-up of chic dog products such as stylish dog clothing, collars and leashes, pet furniture and dog beds, eco-friendly pet gear, healthy dog treats, dog toys, pet carriers, and a growing collection of cat products as well. Their goal is not only happy and healthy pets, but also 100% customer satisfaction. Call 866.280.1818 for more information, and see the full product range at DoggyinWonderland.com.