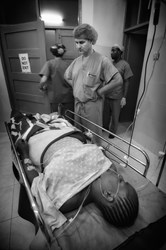 "If we had had even simple things, like better patient education, more blood products, suction equipment and catheters, their lives could have been saved."
Cincinnati, Ohio (PRWEB) December 03, 2013
A trip to Tanzania is both emotionally taxing and physically demanding. But it taught Cincinnati urogynecologist Dr. Steve Kleeman where his life's calling lies.
Kleeman wants to organize donations and medical supplies to improve the health of underserved women in Tanzania.
Kleeman, director of the Good Samaritan Hospital urogynecology division, a TriHealth partner, spent 14 days in October in Moshi, in the foothills of Mt. Kilimanjaro in Tanzania. He traveled with Light of the World Charities of Palm City, Fla. to perform surgery and provide general gynecologic care for women in the area. He has also traveled to Honduras and Haiti on previous humanitarian surgical missions.
While the Tanzanian countryside and people are beautiful, medical facilities and care for women are still primitive, said Kleeman. Everything is re-used, from breathing tubes to catheters to sponges and gloves. Flies buzz around in the operating room. Laundry for the entire hospital is cleaned by women who pound it with rocks on a cement table behind the hospital and hang it up to dry.
In his first 72 hours in the country, Kleeman experienced three deaths—including a 23-year-old woman and her newborn. It was a heartbreaking situation.
"I was about to leave for the day when I was asked to help in another room after another doctor performed a cesarean section," said Kleeman. "The baby hadn't descended correctly through the birth canal. The mother was still on the operating table after the C-section, and was bleeding heavily. I had to re-open her to perform an emergency hysterectomy. We were able to get a hold of some blood products, but I had a feeling in the back of my mind that our efforts might not be enough for her to live. As we worked on the mother, her baby girl, who had been resuscitated, aspirated meconium and died. Unfortunately, the mother died in the middle of the night.
"It's very hard from a healthcare standpoint," he said. "We did all we could to save their lives. We used six units of blood-- all the blood we could collect-- but when you lose a tremendous amount of blood, you lose clotting ability. We needed other blood products to help with clotting. If we had had even simple things, like better patient education, more blood products, suction equipment and catheters, their lives could have been saved."
The following day, another newborn baby aspirated meconium and died. Meconium is infant feces; it can found in amniotic fluid if the baby is under stress during delivery. If the baby inhales it during delivery, the baby can have lung problems or even die.
The infant mortality rate in Tanzania is about 45 per 1,000 babies, according to the CIA World Factbook, compared to a U.S. infant mortality of about six per thousand babies. That is about the same as it was in the U .S. about 150 years ago, said Kleeman.
"There is a tremendous need, especially in the developing world, for the education of patients, as well as for people in the trenches to prevent medical problems," said Kleeman. "There are an estimated 2.5 million fistulas in women in Africa, mostly due to complications during labor."
A fistula is the abnormal connection of two body cavities (such as the rectum and the vagina), caused by compression of the bladder and vaginal tissue by the baby's head. A fistula can develop when the baby becomes stuck in the birth canal. Without medical intervention, the baby will die and the mother can develop significant problems, such as urinary and fecal incontinence. Women who are incontinent are often ostracized from the community.
Not having access to basic gynecological care can cause huge negative health and social consequences in the third world. "If you're female and married and unable to have children, for example," said Kleeman, "you are not worth the water in the toilet, as one nun told me. There is a tremendous emphasis and importance on having children and being a mother. Women who cannot have children can be abused by their families and in-laws."
Conditions at St. Joseph's Hospital, a Roman Catholic hospital in the archdiocese of Arusha, may be primitive, but they are much improved compared to even five years ago, Kleeman said. He attributes the improved conditions to the nuns at St. Joseph's—specifically Sr. Urbani, the medical officer in charge of the hospital.
The hospital was founded in 2001 as an outpatient clinic, and when administrator Sr. Urbani arrived in 2003, she built two operating rooms, but had no equipment in the operating room. A priest living in Florida contacted Light of the World Charities in Palm City, Fla., and the humanitarian agency began to offer missions to Moshi.
Nuns from Our Lady of Kilimanjaro in Moshi held a three-day novena and at the end of the novena, Light of the World was able to provide all the equipment needed to fill the two rooms. At that time, the hospital was able to begin performing cesarean sections and surgeries and take care of people with no place else to go.
"The system seems very functional, even though it is in its infancy," said Kleeman. "A lot of foreigners and Europeans come in to Moshi to climb Mt. Kilimanjaro or go on safari. The situation there is much more hopeful than Haiti. Many roads are paved and there are basic services like police and other government functions."
Each morning, Kleeman, a parishioner of St. Ignatius Loyola Catholic Church in Monfort Heights, a Cincinnati suburb, attended mass at the Our Lady of Kilimanjaro convent. He could look out his window and see Mt. Kilimanjaro. During the weekend he was able to take a safari to the Ngorongoro Crater and Terangire National Park. He saw monkeys, lions and giraffes and even chased a baboon out of his bedroom one night.
There were a lot of Maasai people at the hospital, said Kleeman, and it was thrilling to see someone in western clothing sitting next to a Maasai member in tribal clothing getting treated.
"Just a few years ago, we couldn't even have performed a C-section there," said Kleeman. "People just showed up on the doorstep and died. We could save so many people by improving the delivery process in Tanzania. To have a place in Moshi with infrastructure and a proven track record could make a huge difference. We need simple things, like help with lights in the delivery ward and beds that don't break down as well as x-ray equipment and medicine."
Kleeman wants to make St. Joseph's Hospital his springboard to raise money and medical supplies for future Light of the World humanitarian trips. Each surgical trip of 10 people costs about $32,000—for transportation, lodging and medical equipment. There will be a fundraiser for the next mission to Moshi the weekend of March 29, 2014. Sister Urbani will visit Good Samaritan Hospital and speak.
"There are lessons in humility in Tanzania for all of us," Kleeman said. "The nuns of Our Lady of Kilimanjaro may lack supplies and funding, but they provide compassion and empathy to a great deal of patients. In the U.S., we can provide simple supplies and products to save lives."
Kleeman is a partner at Cincinnati Urogynecology Associates with Drs. Rachel Pauls and Catrina Crisp. For more information about Cincinnati Urogynecology Associates, call (513) 463-4300 or visit http://www.CincinnatiUrogynecology.com.
For information on Light of the World Charities, or to donate, go to http://www.lightoftheworldcharities.org or call (772) 221-4688. Please specify that your donation is for the mission in Moshi, Tanzania.
# # #
More about TriHealth
TriHealth is hospitals, physicians and the community working together to help people live better. We provide clinical, educational, preventive and social programs through Bethesda North, Bethesda Butler, TriHealth Evendale and Good Samaritan hospitals and more than 120 other locations throughout Greater Cincinnati. This includes an ambulatory network, physician practices, research division, employer-based health services, hospice care, and fitness and health facilities. Learn more at trihealth.com, Facebook.com/TriHealth, @TriHealth on Twitter, Pinterest.com/TriHealth and at YouTube.com/TriHealth.