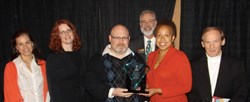 Huntsville, Alabama (PRWEB) November 28, 2013
LEAN Frog is honored and humbled to receive the North Alabama Better Business Bureau's 2013 Torch Award for Marketplace Ethics, Small Business Category.
LEAN Frog President and Co-founder, Byron Headrick, accepted the award at the 16th Annual Torch Awards for Ethics & 12th Annual Torch Scholarships. He noted, "This is a very special award for our company. It highlights that our core values are more than words on paper. It shows that our team is living by our core values and that our actions are being witnessed by our customers and the community."
Candidates for the Better Business Award for Marketplace Ethics are evaluated by an independent, prestigious panel of judges from the business and academic community against the following criteria:

High ethical standards of behavior toward customers, suppliers, shareholders, employees, and communities in which they do business
Demonstrated ethical practices surrounding their buyer/seller relationship
Longstanding history/reputation of ethical practices in the marketplace
Marketing, advertising, communications and sales practices, which reflect a true representation of what is being offered in the marketplace
Acknowledgement of ethical marketplace practices by industry peers in the communities where they do business
Ethics policies that are designed to give long-term value to shareholders, customers, etc.
Training programs that assist employees in carrying out established ethics policies
LEAN Frog began in 2009, during a recession, when Byron Headrick willingly left his position at a local Fortune 200 company to build a unique LEAN Six Sigma Consulting Business. At first, the business was primarily Byron working as an independent contractor for local manufacturing companies. With great deliberation, Byron made the decision to cancel those contracts and build a multi-consultant firm applying LEAN techniques across a variety of business types.
As need and opportunity arose, LEAN Frog refocused its business and now works primarily in the Education field, helping public school systems improve the efficiency and effectiveness of their non-instructional operations. The majority of LEAN Frog's work to date has been conducted in over 15 of Alabama's school districts (over 10%). This work has resulted in identifying over $84 million in savings opportunities among all client school systems and achieving over $17 million in savings over the last 24 months. In late 2013, LEAN Frog expanded operations outside the state of Alabama by being accepted as a Business Partner to the Tennessee School Board Association and the Tennessee Association of School Business Officers.