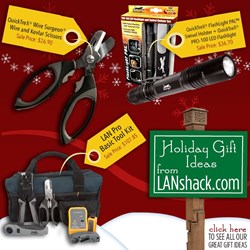 'Online shopping is quickly becoming the new norm when it comes to holiday shopping. Many people are shopping earlier and earlier, and want to find that best deal.' -Owner Antoinette Casazza
Beachwood, NJ (PRWEB) November 27, 2013
LANshack.com - an online distributor and manufacturer of high quality datacom products, such as copper cabling hardware, fiber optic cable assemblies, tools and testers – will begin their holiday Cyber Monday promotion early this year. They are opening their holiday sale prices on the day before Thanksgiving, Wednesday November 27th, and are running the special sale prices through Christmas.
"Online shopping is quickly becoming the new norm when it comes to holiday shopping. Many people are shopping earlier and earlier, and want to find that best deal. That's why this year we decided to open the sale the day before Thanksgiving to give our customers that head start," said Owner Antoinette Casazza.
LANshack has a landing page dedicated to holiday gifts and deals where they feature some unique items that are suited towards their customer base of electricians and installers, but the page offers many common place items as well. "Many of the featured items appeal to our customer base only like the more expensive tool kits that are geared specifically towards Network Technicians, but the sale features some other great items like the FlashLight PAL and many hand tools and tool cases that would really appeal to anyone," said Casazza.
The page features gifts from flashlights and accessories, to hand tools, empty tool cases, mid-size tool kits, and ultimate tool kits. The QuickTreX® Featherweight Series Pro2Go Tool Case is a featured product in the series. The case is structured to hold tools, and also has a compartment for storing a laptop and documents or manuals. Due to the light weight of the case, it is stated to be suited for those who frequently travel with tools. The case will be on sale for $63.71 during the holiday promotion.
Specially designed tool kits are also a feature of the sale. "The mid-size tool kits are a great gift option for a professional electrician, or even a DIY home user. These kits were hand designed to contain everything you would need to make your own cables, and I think these are a really unique gift idea," said Operations Manager Tom Damiano. The mid-size tool kits range from $59.33 - $146.82 during the sale.
All the deals can be found at https://www.lanshack.com/holiday-gift-ideas.aspx starting November 27th. To obtain additional information, contact LANshack.com at 888-568-1230.
# # #
About LANshack.com - Founded in 1997, LANshack.com is an online distributor of high quality datacom products - such as copper cabling hardware, fiber optic cable assemblies, tools and testers - catering to the low voltage cabling industry for use in premise networks, security, and electrical applications.