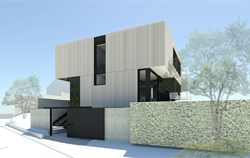 'This house is a compelling example of what's possible at the very upper end of what we as an industry are able to do now,' said Hagerman, 'not just in terms of design but in terms of function.'
Seattle, Washington (PRWEB) November 27, 2013
Seattle home builder Hammer & Hand released a new video today featuring a virtual tour of the award-winning Green Lake Passive House and interviews with architect Joe Herrin (Heliotrope Architects) and builder Sam Hagerman (Hammer & Hand). Recipient of a prestigious regional design award from the American Institute of Architects, the home will fuse high performance building with high design.
"This house is a compelling example of what's possible at the very upper end of what we as an industry are able to do now," said Hagerman, "not just in terms of design but in terms of function."
As a Passive House, the home will use 80-90% less heating energy than a standard home, dramatically reducing its carbon footprint. High performance features include superior indoor air quality with heat recovery ventilation; unparalleled thermal comfort; minimal noise transmission from outside; and careful day-lighting throughout.
"We're interested in the future," said Herrin. "We're interested in materials that speak to our situation today. We're interested in systems that are forward thinking and lend themselves to an aesthetic, an expression that's forward thinking."
The super-efficient home will be built on a desirable lot with commanding views of Green Lake in northeast Seattle. Originally intended as the future home for the architect, the house is now being offered at $1,450,000 as a pre-sale, to be delivered to the owner by Heliotrope Architects and Hammer & Hand.
To view the video and read more about the Green Lake Passive House, visit http://hammerandhand.com/green-lake-passive-house.
About Hammer & Hand
Hammer & Hand is a construction company dedicated to inciting evolution in building through service, science and craft. The firm collaborates with clients and architects to build the best of the Northwest, from new custom homes, to residential remodels, to commercial renovations.
Hammer & Hand Portland
1020 Southeast Harrison Street
Portland, OR 97214
(503) 232-2447
Hammer & Hand Seattle (at The Bullitt Center)
1501 E Madison St #250
Seattle, WA 98122
(206) 397-0558