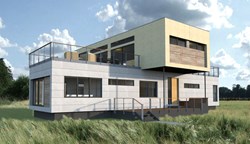 Aquatic has been inspired by the growing frequency of three and even four generations living under one roof. At IBS, we'll be showcasing bathware for everyone living in a household that includes parents, children and grandparents.
Anaheim, CA (PRWEB) December 03, 2013
Aquatic, the leader in innovative and inspirational bathware, today announced that the company will display a selection of its newest products -- including a DuraCore™ subway tile tub shower and the award-winning DriftBath tub -- in the Fire Island house at the 2014 International Builders Show (IBS).
Designed for a multigenerational household, the Fire Island home is part of the Show Village exhibit at IBS, February 4-6, at the Las Vegas Convention Center. Always a major attraction for IBS attendees, Show Village consists of several new homes built to the highest standards of construction and design excellence, enabling industry professionals to see the best residential building products available today in a hands-on, installed environment. The versatility of Aquatic's newest products as well as specific features make them a great fit for the Fire Island house.
"As we've been developing products over the last year or two, we've been mindful of and inspired by changing U.S. demographics, which include the growing frequency of three and even four generations living together under one roof," said Stacy Zar, Director of Marketing and New Product Development, Aquatic. "At IBS this February, we'll be showcasing something for everyone living in a house that includes parents, children and grandparents."
Provided by San Diego-based Cutting Edge Building Group, the 2,677 square-foot Fire Island house is a contemporary, four bedroom, three-and-a-half bath, reverse floor plan inspired by Mid-Century Modern architecture.
The focal point of the second floor's large, open master bath is a walk-through shower/wet room featuring Aquatic's luxurious and serene, Serenity Studio 19 DriftBath hydrotherapy tub and 6032AB acrylic shower pan, beautifully finished with a custom tile-up application. Both fixtures have clean and sophisticated lines which tie nicely with the bathroom's maple cabinets, warm tone floor tile and rectangular, white gloss wall tile accented by a mosaic border.
On the first floor, a Jack and Jill bath utilizes the 6032STT tub-shower, part of Aquatic's striking DuraCore subway tile collection. Rectangular floor tile complements the subway tile pattern. Also on this level is a second master, or mother-in-law suite, designed with ease-of-use in mind. Elegant, understated tones define the suite's bathroom space, with a cool grey field tile on the floor and a white and blue mosaic surround encapsulating Aquatic's 6032APAN shower pan. The pan has a low threshold for easy and safe entry and exit, and also an integral seat for comfort and convenience.
DuraCore Subway Tile Collection
Although ceramic subway tile has been perennially popular since early 20th century introduction in New York City's subterranean train stations, resurging interest in this design classic in recent years inspired Aquatic's new family of DuraCore subway tile tub showers and showers. These unique products deliver the same great look as ceramic subway tile but without the work and expense required for installing and maintaining tiles and grout. The units can be ordered with reinforcement for later installation of grab bars or with factory-installed grab bars in compliance with FHA and ADA requirements.
DriftBath
A new approach to hydrotherapy exclusively offered by Aquatic, DriftBath is the next incarnation of gentle and soothing bathing experiences. Available on select Serenity Series models (which also include Soakers, HotSoaks and Air Baths), DriftBath has dozens of water-only ports located in the backrest and foot areas of the bathing well, with each port individually releasing a delicate ribbon of moving water. The individual streams flow in the same direction to form a soft current that simulates the experience of sitting in a calm stream. By contrast, in typical whirlpool and air bath systems, a mixture of air and water pushed into the bathing well creates turbulence in the water, which generates a very different type of hydrotherapy.
New Shower Plans
While appropriate for new construction, Aquatic's 6032AB acrylic shower pan also is an excellent choice for homeowners, remodelers, multi-family developers and hotel operators who want to replace an existing, prefabricated tub-shower area and upgrade to a shower-only, tile-up application. This 60"x32"x4" pan has a subtle, contemporary design with gradual curves, a clean silhouette, soft edges and a low threshold. It combines well with wall materials such as cultured marble, ceramic tile, granite, other stone and/or glass for a more upscale, semi-custom and stylish shower at a moderate price point.
At 60" x 32" x 21-7/8", the 6032APAN acrylic shower pan provides a spacious, comfortable and safe shower experience for everyone. It is configured and sized for retrofitting a standard bathtub alcove with a designer-look, tiled-wall application while also adding access-friendly features. These include a 4-inch threshold, an integral left- or right-side corner seat and a slip-resistant, textured bottom.
About Aquatic
Aquatic offers the largest and most innovative selection of tubs, showers and bathware accessories. The company's world-leading Hydrotherapy, Everyday and Accessible lines include more than 300 products for virtually every need – all inspired and made in America. Based in Anaheim, California, Aquatic serves distributors, builders, plumbing professionals, architects, designers and consumers through a nationwide network of state-of-the-art facilities for manufacturing, distribution and support. For more information, visit http://www.aquaticbath.com.