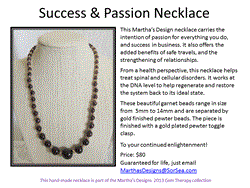 We know you will love your jewelry pieces so much that you will wear them more than anything else in your jewelry box. It is for this reason that when you purchase one of our pieces, we guarantee it for life.
(PRWEB) November 28, 2013
This holiday season enjoy a 15% discount on all purchases beginning Black Friday, November 29th, 2013 through December 31st, 2013. Martha's Designs Store and Next Step Transformation together offer a unique shopping experience. One is assured to find something special and unique for everyone on their shopping list.
SorSea, a company whose mission it is to "Make a positive difference in the world by offering products, services and programs that help people awaken their greatness", launched Martha's Designs Jewelry collection in 2012. In October, 2013 the collection expanded to include Martha's Designs Gem Therapy, a collection of unique necklaces, bracelets, and earrings made with beautiful gemstones that have a purpose.
The women behind the name: Martha Soria and Martha Arechiga dedicated themselves to their dream later in life. Martha Soria became a silversmith at 80 years old, and Martha Arechiga became a goldsmith at 50 years old. The two Marthas wanted to create jewelry that made a difference in people's lives. They teamed up with Martha Sears, founder of Next Step Transformation, a services division of SorSea, to create Martha's Designs. Together the three Marthas design a Gem Therapy jewelry line that is beautiful and radiates specific energies intended to help the wearer improve their health, mental state, and emotions.
The Marthas wish you much health, love, happiness and joy through this holiday season!