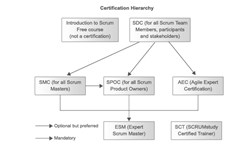 Introduction to Scrum course is tailored to help anyone interested to know more about Scrum; learn about key concepts in Scrum as defined in the SBOK™ Guide and to get a basic understanding of how Scrum framework works in delivering successful projects.
Phoenix, AZ (PRWEB) November 27, 2013
The initiative generated immediate interest with over 10,000 members signing up within the first month—far more than even the SCRUMstudy team had imagined. What worked for the course was word-of-mouth publicity. More than 80% of members have rated the course "excellent" or "very good" in the automated feedback system which is integrated with the course. Almost all of them recommended the course to others.
It's not hard to see why. There are 12 videos that explain the key aspects of Scrum in an easy-to-understand manner. There are 2 mobile apps about Agile and Scrum, as well as an online case study app that guides a student through an interactive case study that demonstrates how Scrum can be used in a real-life scenario. The first chapter of the definitive guide to Scrum—A Guide to the Scrum Body of Knowledge (SBOK™ Guide)—is also included in the course. After completing the course, one can get a course completion certificate and 10 PMI PDUs by successfully passing an online exam. And all this is absolutely free because SCRUMstudy's objective is to spread awareness about Scrum and help more people improve their project performance using this framework.
For professionals who want to take the next step in their careers and become certified Scrum practitioners, masters and experts, SCRUMstudy offers the following scrum certifications:
1. Scrum Developer Certified: SDC™ is an entry level certification for Scrum Team members and those who interact with any Scrum Team. The objective of this certification is to ensure that Scrum Team members know enough about Scrum to effectively contribute to a Scrum project.
2. Scrum Master Certified: SMC™ professionals have a practical, working knowledge of Scrum that equips them to implement and work in a Scrum environment. The purpose of the exam is to confirm that the applicants have achieved sufficient understanding of how to apply Scrum in projects and to tailor Scrum to fit individual and unique scenarios.
3. Agile Expert Certified: Agile Expert Certified (AEC™) professionals possess a wide-ranging knowledge and understanding of the values, methods and intricacies of Agile. The purpose of the exam is to confirm that applicants have the ability to compare and choose the methodology most appropriate in a given situation.
4. Scrum Product Owner Certified: The Scrum Product Owner Certified (SPOC™) certification exam is designed to confirm the applicant's practical and working knowledge of Scrum that equips them to handle the business aspects and stakeholders in a Scrum environment.
5. Expert Scrum Master: ESM certification is the next step for Scrum practitioners to further demonstrate their expertise in Scrum methodology. This will test their ability to manage complex Scrum projects and scale Scrum in complex projects involving large project teams, programs and portfolios.