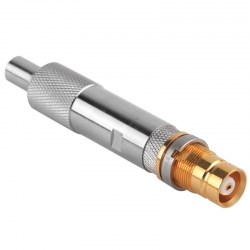 (PRWEB) November 28, 2013
Recently, RFcnn.com, a well-known balun manufacturer and retailer, has released its new products: E2 mini baluns. At the company's one-stop online store, these items are now available at discounted prices, up to 32% off. According to the CEO, the promotion will last until December 18, 2013.
As a leading company in the industry, RFcnn.com puts much emphasis on product quality as well as customer service. It understands that product and service are key factors for success.
The company has received many positive reviews from customers across the world. Its practical and durable products are among the best-selling items in the global market. Having been working in the field for several years, the company has the ability to provide different kinds of baluns in a large number. Its balun products include G703 mini baluns, E2 mini baluns, 1.6/5.6 mini baluns, type 43 mini baluns, BNC mini baluns and so on.
The CEO says happily, "We are excited to introduce our new products. The E2 mini baluns are especially made from the international customers. Over the past few years, we have been insisting on deploying strict quality control. All our products are excellent. I am sure worldwide customers will be pleased with these new baluns."
About RFcnn.com
RFcnn.com is an online shop of Zhenjiang Fourstar Electronics Co. LTD, which is a China based company that aims to provide customers with high quality products at the lowest possible prices. Customers can try the company's products through sample orders with a long-term contract. Most customers come back soon after receiving their first deals.
More details about the company's high quality connectors can be found at http://www.rfcnn.com/Mini-Balun-1-6-5-6-L9-female-to-IDC-AWG24-26-RF-Connector-88.html.