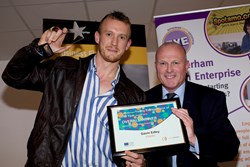 Being an entrepreneur and business owner can be a lonely place at times so it's great to get recognition.
Rotherham, South Yorkshire (PRWEB UK) 27 November 2013
The Awards, now in their eighth year, look to recognise the achievements of business owners under the age of 30 and for the last two years have been organised by Rotherham Youth Enterprise.
Based at RiDO's Fusion @ Magna business centre at Templeborough, the award-winning enterprise started life in 2010 in the niche industry of specialist teas. Constant product research and development since then has seen the company's range grow to 15 lines of tea, two lines of organic coconut oil, over 30 lines of vitamins and minerals and more than 1,300 lines of third-party branded products.
Selling online through a growing network of distributors and high street retailers such as Holland and Barrett, Gavin went on to open his first retail outlet in Sheffield earlier this year and is planning to open one in Rotherham early in 2014.
Speaking after the awards ceremony at New York Stadium, Gavin said: "Being an entrepreneur and business owner can be a lonely place at times so it's great to get recognition for all the hard work and effort we put in. The financial reward is also very welcome as it will go toward our new warehousing project which will make product selection easier for the despatch team, which in turn will mean an improvement in service for our customers."
The Young Entrepreneur of 2013 received a special trophy, a cheque for £1000 and a year's membership of Barnsley and Rotherham Chamber.
Gavin also collected the Best Established Business award, which was sponsored by The Source Skills Academy. Other category winners, presented with cheques for £500 by respective sponsors, were Charlotte Scothern, owner of Patchwork Pig, named as Best Start-up Business, sponsored by Parkgate Shopping.
Sam Goddard from Response Vehicle Lighting won the Most Innovative Business award which was sponsored by AESSEAL Charitable Trust Discretionary Fund.
Winner of the Business Most Determined to Succeed was Dawn Brown from FreshnChic Boutique, who collected her award from sponsor Rotherham College of Arts and Technology.
Paul Tomes of Expo People was presented with a certificate and a prize of £250 for Best Business with Growth Potential, which was sponsored by Rotherham Youth Enterprise.
Jackie Frost, manager of Rotherham Youth Enterprise, said: "Our judges were impressed with the vision, commitment and personal courage shown by all of the entrants to these awards. All of those qualities are required to successfully start up and run businesses in the present economy, and once again we have had a very high calibre of entries which has made the judges' task extremely difficult."
Rotherham Youth Enterprise provides self-employment support and advice for young adults in the area. Office and workshop provision is also available across the borough.
Principle sponsor, UK Steel Enterprise has set aside finance from its Kickstart Fund to target young entrepreneurs in Rotherham.
Allan Wood, regional executive at UK Steel Enterprise, said: "Despite challenging times Rotherham continues to support its young entrepreneurs by encouraging and stimulating enterprise amongst young people. We have some great examples with our award winners this year and we look forward to seeing them all prosper in future.
"Our congratulations go to all of the category winners but there can only be one overall winner and Gavin has shown excellent business vision and determination to be named this year's Young Entrepreneur."