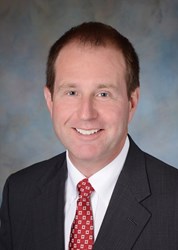 We are excited to find someone with Dana's experience in hospital and community health, a strong understanding of the Ohio healthcare market and proven leadership to head our organization.
LENEXA, Kan. (PRWEB) December 02, 2013
After conducting a nationwide executive search led by healthcare leadership solutions firm B. E. Smith, Madison County Hospital in London, Ohio, has hired Dana Engle as chief executive officer. A seasoned healthcare executive with more than 20 years of progressive healthcare leadership experience, Engle assumed his new duties at Madison County Hospital on October 28.
"We are excited to find someone with Dana's experience in hospital and community health, a strong understanding of the Ohio healthcare market and proven leadership to head our organization," said Dr. Mitchell Spahn, chairman of the Madison County Hospital board of trustees. "Dana has an impressive track record in physician recruitment and market share growth, and is committed to gaining community trust and support at Madison County Hospital."
Formerly, Engle held the role of chief executive officer for Rocking Horse Community Health Center in Springfield, Ohio, providing leadership for the large community health center which serves as a medical home to over 12,000 individuals. He previously was senior vice president of operations for Community Mercy Health Partners in Springfield, Ohio, where he had leadership responsibilities for three acute-care hospitals, four long-term care facilities, an outpatient cancer facility and multiple outpatient centers and joint ventures. Engle also served as chief financial officer at The Community Hospital in Springfield, Ohio.
"Madison County Hospital was seeking an experienced senior healthcare executive to provide strategic and operational leadership while continuing to drive the organization's strong focus on providing superior quality care to the community," said Kathy Noland, vice president of senior executive search for B. E. Smith, the healthcare executive search firm who conducted the nationwide CEO search for Madison County Hospital. "Dana's healthcare experience and leadership style were a perfect fit."
Engle earned a master's degree in business administration from The Ohio State University in Columbus, Ohio. Additionally, he earned a bachelor's degree in accounting and finance from Wilmington College in Wilmington, Ohio. Engle earned fellow status with the American College of Healthcare Executives (ACHE), and is a certified public accountant (CPA).
About Madison County Hospital:
Madison County Hospital is a 94-bed, not-for-profit facility serving the community of London, Ohio. It offers comprehensive inpatient and outpatient healthcare services including state-of-the-art diagnostic capabilities. Madison County Hospital, an affiliate of the OSU/Mount Carmel Health Alliance, provides patients with additional healthcare resources and improved access to specialized medical services through its agreement with the Ohio State University Wexner Medical Center and Mount Carmel Health System. To learn more, visit http://www.madisoncountyhospital.org.
About B. E. Smith:
Founded in 1978, B. E. Smith is a full-service healthcare executive search firm and one of the top-ranked providers of senior-level leadership services including Interim Leadership, Executive Search and Management Consulting. Veteran healthcare recruiters and regional healthcare experts partner with each client to create customized solutions. B. E. Smith's proven methodology has resulted in the recent placement of more than 900 leaders into healthcare organizations worldwide. The firm utilizes a comprehensive sourcing strategy incorporating the latest marketing techniques, association partnerships, social networking and one of the largest database of skilled senior-level healthcare executives in the industry to deliver immediate results in today's complex healthcare environment. For more information, visit BESmith.com or call 855-254-8261.