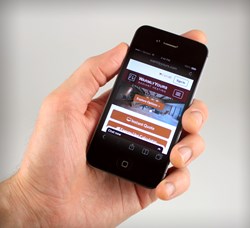 Giving our consumers easier access to all of our products no matter what platform they're on is important, and that's been achieved with the new site.
Chicago and Toronto (PRWEB) November 27, 2013
WarmlyYours Radiant, an industry leader in innovative radiant heating and snow melting products, just launched its newly redesigned website. The new mobile-friendly version of the site, WarmlyYours.com, went live earlier this month. This updated format is fully scalable and designed to optimize user experience on multiple platforms.
"With the drastic increase in our user base adopting mobile as their primary Internet browser, we felt it was necessary to update the site using a technology platform capable of supporting those users," said Christian Billen, Director of IT at WarmlyYours Radiant.
Faster and more responsive, the new site automatically adapts to different screen sizes from mobile phones and tablets to desktops. "Giving our consumers easier access to all of our products no matter what platform they're on is important, and that's been achieved with the new site," said Lauri Galdine, Web Designer, one of the project team leaders, along with David Whitby, Senior Software Developer, for the site redesign.
With modern, sans-serif fonts and bigger graphics, the new WarmlyYours.com site has a fresher, brighter look, as well as improved functionality. The navigation has been redesigned, making it easier for users to quickly access the products they need, particularly on a mobile platform.
"Overall, the images are much larger and clearer when viewed on a large screen/desktop format. The redesign of the homepage is a big improvement over the previous version. Information is more structured, clear and concise, and the new homepage slider functions very well on both large and small scale formats due to the responsive layout," said Galdine.
The website improvements arrived just in time for the big holiday shopping weekend. The attractive, easy-to-use sliding panel format can efficiently deliver a large amount of information within a small space. WarmlyYours Black Friday through Cyber Monday promotion will provide the first real test of the new format.
Trade professionals will appreciate new features specifically designed to optimize their experience, including support for multiple logins on the same account.
The site redesign began in late July and took just over three months to complete.
Visitors to WarmlyYours.com can expect more improvements to the site in the near future, including the addition of new products and enhanced features designed to support dealers and contractors. Billen said that a fully revamped and integrated forum for trade pros, improved online tools, such as the heat-loss calculator, and enhancements to the WarmlyYours University online training module can be expected by the end of the first quarter 2014.
About WarmlyYours Radiant
Since 1999, WarmlyYours Radiant has offered the industry's most innovative solutions in radiant heating technology, from our flagship floor heating systems and radiant wall panels to snow melting products and towel warmers. With locations in the U.S. and Canada, WarmlyYours provides unrivaled personalized customer support from start to finish, featuring measuring and design services, 24/7 technical support, and our NoNonsense™ Warranty. For more information, visit http://www.WarmlyYours.com.
MEDIA CONTACT:
Cassie Peterson
Director of Communications
WarmlyYours Radiant
Direct: 847-550-2464
Main: (800) 875-5285, ext. 864
cpeterson(at)warmlyyours(dot)com
http://www.warmlyyours.com