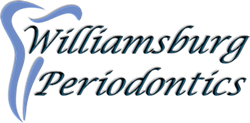 Williamsburg, VA (PRWEB) December 02, 2013
In honor of Pancreatic Cancer Awareness Month, periodontist Dr. Michael Schroer of Williamsburg Periodontics is working hard to raise public awareness about how obtaining effective treatment for periodontal infections, including a gum surgery alternative, can lower a person's risk of contracting this form of cancer. From the early onset of gum disease as noted by bleeding in the gums or gum pain, a person's risk of becoming ill with pancreatic cancer can increase according to many different medical research studies.
Over the years, there have been many different research trials that have investigated a potential relationship between pancreatic cancer and periodontal infection including one from Harvard that showed that people who have gum disease have a 63 percent greater chance of developing pancreatic cancer when compared to those people who do not have infection in their gums. Dental treatment advances offer patients today many options to very effectively and efficiently eliminate such infections, including gum surgery alternative methods. The earlier a patient seeks care, the better the option for optimal treatment and relief from symptoms such as gum pain as well as better health overall.
People with gum disease produce an antibody to a bacteria known as P. gingivalis that works to eradicate the infection. This particular antibody has been measured in very high quantities in people who have pancreatic cancer, suggesting a link between the two diseases. Also, when gums are infected, a particular carcinogen known as a nitrosamine is released from the mouth into the blood and carried through the body. This type of carcinogen is associated with an increased risk for pancreatic cancer, furthering the thought that there is a link between pancreatic cancer and gum disease.
Williamsburg residents who have gum pain or other symptoms of periodontitis should seek professional advice and treatment. Dr. Schroer invites anyone to visit their website or call their office to schedule a consultation to learn about various gum surgeries and some gum surgery alternative options as well. The staff at Williamsburg Periodontics is committed to providing optimal oral and overall health to their patients, including reducing risks for other serious medical conditions.
About The Doctor
Williamsburg Periodontics is a periodontal practice offering patients personalized dental care in Williamsburg, VA. Dr. Michael Schroer has been practicing dentistry for over 22 years. He received his undergraduate degree from the University of Missouri and he graduated from Dental School at the University of Missouri. He earned his degree in Periodontics from the University of North Carolina – Chapel Hill. Dr. Schroer is part of one percent of dental professionals providing the LANAP FDA cleared laser procedure for gum disease and periodontal treatment. To learn more about Williamsburg Periodontics and their dental services visit their website at http://www.williamsburgperiodontics.com and call 757-645-9565.