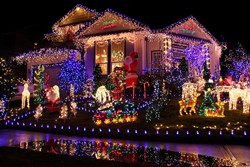 "I can't explain how excited we are. This will be a great start to a wonderful holiday season," said Laurel Smith, Winner, Extreme Holiday Makeover
Irvine, CA (PRWEB) November 27, 2013
As the holidays open in earnest this Thanksgiving and Hanukkah week, Brian and Laurel Smith of Yorba Linda know that their holidays and those of their neighbors will be bright, literally, because their name was picked today out of nearly 1,000 entries into the Extreme Holiday Makeover by First Team Real Estate.
"I can't explain how excited we are. This will be a great start to a wonderful holiday season," said Laurel Smith. "We saw the contest and thought, 'You never win if you don't enter', and sure enough we did."
As a result of having their name picked, the Smiths will have a professional decorating and lighting team descend on their home Sunday to install $5,000 worth of lights and decorations. First Team Real Estate will also be providing a power allowance of $500 as well as making sure all of the decorations are removed in January.
"This was a fun contest from the start and we can't wait to decorate the Smiths house this Sunday and share holiday photos all season long on our Facebook page," said Rick Brotherton, Vice-President, Marketing, First Team Real Estate. "To all those who entered the contest on our Facebook page we say thank you and stay tuned for more, and to all of you wondering what that tremendous glow in the night sky is this December, it's the Smith's house!"
First Team Real Estate's Extreme Holiday Makeover was a Facebook based contest that ran from mid-October until Monday, November 25. The winner, Brian and Laurel Smith of Yorba Linda, CA had their name drawn at random from nearly 1,000 entries for the grand prize of $5,000 worth of professional holiday decorations and lights, a $500 energy allowance, and having the lights professional removed after the holidays. Two runner up prizes of American Express gift cards were also awarded.
"First Team Real Estate has had one of our best years ever in our 37 year history, and we wanted to have some fun and celebrate," explained Rick Brotherton. "We congratulate the Smiths again and urge everyone who entered to watch for pictures of the holiday decorations and to post their holiday photos on First Team's Facebook page."
For more information or to enter the Extreme Holiday Makeover contest, go to http://ow.ly/287Ov2.
ABOUT FIRST TEAM REAL ESTATE
Growing from a single office in Huntington Beach, CA in 1976, First Team Real Estate is now Southern California's largest and most trusted private real estate agency with offices across California. In 2011, 2012, and 2013 First Team was recognized as Best Real Estate Company by the annual Orange County Register survey of 100,000 Southern California households. We can be reached at (888) 236-1943.
ABOUT FIRSTTEAM.COM
Firstteam.com is the official website of First Team Real Estate, and is used daily by thousands of unique users who trust its property and market analysis data which is updated four times daily on average. According to independent rating organizations of Internet usage and reach, firstteam.com is the most used brokerage property web site serving Southern California. For more information go to http://ow.ly/lZH0G.