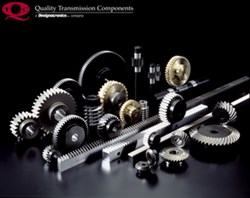 Exclusive USA Distributor of KHK Gears
New Hyde Park, NY (PRWEB) December 06, 2013
Quality Transmission Components carries the widest variety of off-the-shelf metric gears in North America. Catalog Q420 contains an extensive list of spur gears, bevel and miter gears, screw gears, racks and pinions, worms and worm gears. Other gear products, such as internal gears and gearboxes, are available as well. These products are available in many different materials, sizes and styles to fit a wide variety of applications.
Nearly every standard module and tooth count is available within the working range of sizes, so once the desired style of gear is selected, the proper size can be found as well. If the part requires secondary operations before use, such modifications can be made in many cases, and this is specified on each page. Additionally, selection tips found in the catalog give application characteristics and other helpful specifications for each series. This ensures that, with all the different stock gears to choose from, the ideal part can always be found.
Since 1985, Quality Transmission Components (QTC) has been a leading supplier of medium and coarse pitch metric gears throughout the United States, Canada and Mexico. QTC is the exclusive North American distributor for Kohara Haguruma Kogyo K.K. (KHK Gear Industry Co., Ltd.) of Saitama, Japan. As Japan's largest independent gear manufacturer, KHK offers over 9800 standardized, medium and coarse pitch metric gears, and gear related items. KHK's modern, ISO 9001:1994 certified facilities utilize sophisticated gear cutting and grinding equipment to serve the gear needs of many Japanese original equipment manufacturers.
Other power transmission solutions provided by QTC include over 11,000 off-the-shelf timing belts & pulleys, belt & chain tensioners, planetary gearheads, roller chain & sprockets .and other components for prototypes and production applications.