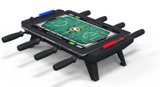 Black Friday holiday discount gift for iPad users.
(PRWEB) December 02, 2013
Looking for the perfect gift for the "techie" in your family? New Potato Technologies, an innovator and developer of app-enabled accessories, has updated Classic Match Foosball™ to be compatible with iPads 3, 4 and the new iPad Air. This complements the original 30 pin model, which works with iPad 1, 2 and 3.
Now featuring multiple languages and customized uniforms based on flags from over 40 different countries, New Potato has brought this classic game further into the future by integrating Bluetooth Smart technology as the latest innovation of their app-enabled accessory product.
New Potato's CEO and foosball enthusiast Stuart Ross says: "Classic Match Foosball has demonstrated the ultimate integration of the iPad's sophisticated technology with an intelligent accessory product. Now we have added Bluetooth Smart compatibility, aligning this unique, portable multiplayer game with the newest iPads," says Ross.
The foosball table accessory was voted "Hottest Gadget of the Month" by Popular Science magazine in 2013. The Classic Match Foosball for iPad™
accessory's rugged construction is ready for even the most zealous of players, and can be played in the backseat of a car or on an airplane. You can also set the app for one person play "against the computer," with three skill levels.
Foosball is a worldwide favorite known by many names including the common English names table football or footzy. The French know it as baby foot, in Germany and Russia it is called kicker, Mexico refers to it as futbolito, and in Brazil it's called pebolim. Now, the app's instructions and menus will switch from the default English to German, Italian, French or Greek if the user's iPad is set to any of those languages.
Classic Match Foosball™ for iPad will be a great gift for this Holiday season and can be purchased at http://www.newpotatotech.com, for a special holiday discount.
All Classic Match Foosball table games are designed, assembled, and produced in North Carolina.
New Potato Tech recorded a full HD video review of the Foosball game.
About New Potato: New Potato Technologies is a consumer electronics design company headquartered in Wilmington, North Carolina, and focused on extending the amazing iPhone, iPod and iPad and Android platforms into new innovative areas.
For more details on Classic Match Foosball™ and New Potato, visit http://www.newpotatotech.com or contact media(at)newpotatotech(dot)com.