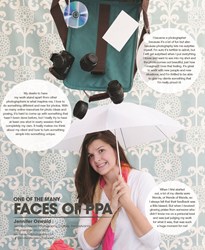 It's a fun way to show that old and young, accomplished and novice, all of these people make PPA who we are. We're all in this together.
Atlanta, GA (PRWEB) November 29, 2013
Professional Photographers of America (PPA) offers many benefits to photographers. These include equipment insurance, copyright and malpractice protection, an unprecedented learning platform (PPAedu) among others. But a re-tooled campaign has provided its members with something more—exposure.
In July, PPA emailed its members, asking them to participate in the Faces of PPA campaign. Proud to represent the photography community as a whole, PPA launched the campaign to give some face time to those who spend their lives behind the camera.
The campaign calls for a brief questionnaire to learn about members as well as submit a photo of themselves. Within a month, more than 200 submissions had been sent in.
"The response has been great!" said Carla Plouin, director of marketing and communications for PPA. "The goal of the campaign is to show off the diversity of our membership. Some of our lifetime members have been with PPA for more than 60 years while we have young photographers just getting started in their careers. It's a fun way to show that old and young, accomplished and novice, all of these people make PPA who we are. We're all in this together."
As for the photo portion, PPA isn't looking for just headshots, but fun self-portraits that show-off member's creativity and talent.
"The photos should be such that anyone can look at your photo and know right away that you're a photographer," said Plouin. "We've been really excited about what our members are coming up with. It's a fun opportunity for them to step out of their comfort zone and turn the camera on themselves for a moment."
Submissions are pooled into galleries on PPA's website, Facebook and Google+ and are updated weekly with five new additions. One lucky member is chosen each month to be featured in Professional Photographer magazine, the official publication of PPA. The rollout gives ample opportunity for PPA's 26,000 plus members to take their time and create something they are proud of for the ongoing campaign.
"There is no deadline whatsoever for Faces of PPA," reiterated Plouin. "There truly isn't an endgame in sight. We hope this just goes and goes and members continue to submit as our membership expands."
To participate, PPA members can find the submission form at ppa.com/faces.
About PPA
Professional Photographers of America (PPA) is the largest international non-profit association created by professional photographers, for professional photographers. Almost as long-lived as photography itself, PPA has roots that date back to 1869. It assists more than 26,000 members through protection, education and resources for their continued success. See why photographers love PPA at ppa.com.