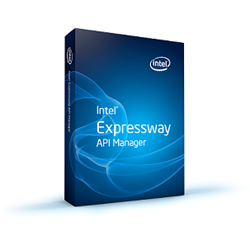 A business-focused API management strategy requires a comprehensive technology architecture.
Las Vegas, NV (PRWEB) November 29, 2013
The success of web-based channels for extending strategic business reach has caused Enterprises of all sizes to look at API management as a strategic pillar in reaching new digital channels. A business-focused API management strategy requires a comprehensive architectural approach that marries mobile, compliance, security, flexible deployment, and internal application modernization through the use of APIs. Senior executives and technology leaders from Intel will examine all facets of API management, from product-level API packaging, developer experience, architecting for a mobile strategy, API security, deployment models, and the marriage of APIs and compliance in a two-day learning lab.
Intel is a top-level sponsor at Gartner's Application Architecture, Development & Integration Summit which runs December 3rd to 5th at Caesar's Palace in Las Vegas, NV.
Learning Lab Presentations:
Complete API Management
Internal API Management
Data Protection for Cloud Apps
Connecting APIs to Mobile App Development
Enterprise API Security Choices
The Learning Lab hours run two days, from 12pm to 6:45pm on Tuesday, December 3rd and from 12pm to 2pm on Wednesday, December 4th.
Complete API Management shows how an enterprise can efficiently support internal and external developer communities using a combination of SaaS and on-premise portals to meet business goals. This talk shows how the same API can be surfaced for both communities, while other APIs are made available only to internal developers. API surfacing, documentation, monitoring and metering are all discussed.
Internal API management looks at how Enterprises can use APIs as a centerpiece across the hybrid enterprise in a software-defined data-center. API management best practices, such as fast on-boarding, lower development costs, and prodigious API sharing increases application modernization and lowers operational costs. This talk demonstrates how API management augments the adoption of existing service-oriented-architecture best practices
Data Protection for Cloud Apps looks at the intersection of APIs and compliance for sensitive PCI and PII data. As Enterprises increasingly act as a cloud brokers, data protection at the API layer takes on increased scrutiny. This talk covers approaches such as data tokenization and format-preserving encryption for sensitive cardholder data and personally identifiable information. These techniques and approaches can help Enterprises increase the compliance posture of data sent and received through APIs.
Connecting APIs to Mobile App Development looks at the evolution of the Enterprise architecture for supporting HTML5 and native mobile applications through the use of an optimized 2-tier architecture. APIs power mobile apps by providing a data services layer that connects existing back-end systems to an employee, partner or customer mobile experience. The talk covers best practices for performance and security including scalability, resiliency, and resource protection low cost mobile enablement.
Enterprise API Security look sat the breadth of security requirements and choices around API management, including perimeter security, attack protection, authentication, authorization, denial of service protection and compliance. The talk provides attendees with a blueprint and set of guidelines on how to approach to API security depending on the type of digital channel, whether the API is accessed by an Enterprise mobile application, internal developer, external developer, packaged application, client/server application or browser-based application.
Enterprise API Management from Intel
As a sponsor, Intel will be demonstrating the capabilities of Intel® Expressway API Manager, which combines capabilities of on-premise, hybrid and SaaS API management. It is the first composite, certified API management solution available with the security, speed and scalability features designed for the most demanding Enterprise environments. Expressway is available directly from Intel. The platform provides full multi-tenancy capabilities and can handle over 18 billion API calls per month per node. It is cloud-ready and runs on-premise or in hybrid cloud environments.
About Intel's Enterprise API Management Platform
Intel has recently acquired Mashery, the analyst recognized leader in SaaS API Management. Intel has just released a fully functional API Management Platform which for local, and hybrid deployments. The platform includes Intel's market-leading Expressway Service Gateway and Tokenization Broker technology that provides proven strength in enterprise grade security, performance, service integration and data compliance. Intel offers a complete portfolio of market leading API Management capability covering all the possible API Management deployment models, providing a foundational architectural approach for any API business strategy. This offers the flexibility to an architect in choosing the best fit deployment model for his or her use cases within the integrated product portfolio. Furthermore, the architect can move from one deployment model to another within the same product portfolio as the requirements and use cases evolve.